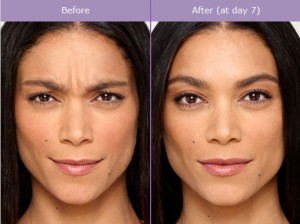 Botox
is one of the most popular
anti-aging
facial non-surgical procedures in the world. When the procedure is performed by a trained and experienced provider at a certified Botox
med spa
, it can create very desirable aesthetic outcomes in terms of reduction of facial lines and wrinkles. However, patients should be aware that botulinum toxin A, the active ingredient of Botox, is an extremely potent biological agent. If the
Botox treatment
is performed wrongly or administered in incorrect dosage, it can cause significant side effects. Rejuvenate
Medical Spa
, led by highly experienced physician
Dr. Bijan Farah
, provides Botox and various other procedures to patients in Encino, Sherman Oaks, San Fernando, Calabasas, Woodland Hills, Tarzana, CA, and surrounding communities.
Common Side Effects
Botox anti-aging injections
are FDA approved and offer high safety and efficacy as long as the treatment is performed by an experienced provider. The most common side effects include bruising or swelling at the site of injections. Some patients may develop flu-like symptoms or headache. Mild tingling or numbness may also occur in the injection site. These are temporary effects, which usually clear on their own. If the injections are not placed correctly by the
med spa
provider, there is a risk of the medication spreading to surrounding tissue. This can cause more serious side effects such as:
Droopy eyelids
Crooked smile
Cockeyed brows
Excessive tears
Dry eye
If any of these effects are noticed within hours or even weeks after received Botox treatment, the patient should immediately contact the physician.
Severe Side Effects
More severe side effects of Botox are highly unlikely, but the possibility exists that the toxin may spread to distant parts of the body and cause botulism-like symptoms. Immediate medical assistance is necessary if the patient notices any of the following symptoms following Botox treatment:
Weakness in the muscles all over the body
Problems with vision
Difficulty in swallowing or speaking
Difficulty in breathing
Poor bladder control
Women who are pregnant or breast feeding may be advised to avoid Botox because the potential effects on the baby are currently unknown. The Botox expert will also advise the patients to avoid rubbing the injection site for about 12 hours following the treatment to minimize the risk of medication spreading to nearby areas. Rejuvenate
Medical Spa
receives patients from Encino, Sherman Oaks, San Fernando, Calabasas, Woodland Hills, Tarzana, CA, and nearby locations for Botox and other procedures.
Precautions
The risk of side effects with Botox is greatly reduced when the patient chooses an experienced provider in a professional medical spa setting. Trends such as "Botox parties" where a physician offers Botox treatment to a group of patients at their home or another non-medical location at a lower cost may pose a higher risk of side effects. These options should preferably be avoided. Botox can have an adverse reaction with certain antibiotics, anti-inflammatories, herbal remedies, and heart and Alzheimer's drugs. The patient should disclose the medications they may be using currently or have used in the recent past to ensure appropriate decisions can be made by the Botox provider.
See all Medical Spa Non-Surgical Procedures Dr. Bijan Farah performs on patients in Encino, Sherman Oaks, San Fernando, Calabasas, Tazana, Woodland Hills, CA, and surrounding communities. Schedule a consultation now.