Shaping and Toning with VelaShape III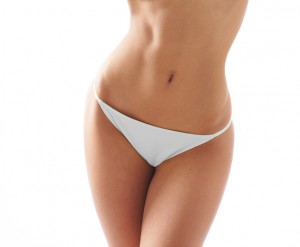 Weight loss is a challenging prospect. And after hard months of diet and exercise, the evenings spent at the gym when all you really wanted to do was flop down in front of the TV, the celery sticks for dinner when what you really wanted was pizza—after all that work, it can be frustrating to find those pesky little problem areas that stubbornly refuse to look their best. Fortunately, the VelaShape III is a revolutionary new technology designed to tighten and contour those difficult-to-train areas such as thighs, buttocks, tummy, and arms. And best of all, it's done in a comfortable, non-invasive treatment setting. It's a great solution if you'd like to improve areas such as:
Fatty deposits on the thighs, buttocks, abdomen, and underarms

Soft or slack body contours

Dimpled skin tone

Sagging or excess skin
While there are other techniques available to reduce fat and sculpt and tone the body, most are invasive and may require surgery. Liposuction, tummy tucks, and body lifts are effective but uncomfortable, with some procedures requiring significant downtime for recovery. At Rejuvenate Medical Spa in Encino, California, Medical Director Dr. Bijan Farah is pleased to offer this revolutionary option—VelaShape III—because most patients experience little to no discomfort and there is no downtime. Additionally, VelaShape III exceeds other body sculpting techniques by addressing cellulite, a very common dimpling effect which is caused by an accumulation of subcutaneous fat deposits. Unlike many forms of body sculpting treatment, VelaShape III takes care of the unsightly cellulite deposits, giving the skin a smooth, firm, healthy appearance.
Unlike the so-called "miracle cures" which typically affect only the skin's surface, VelaShape III works to alleviate stubborn cellulite by approaching from
under
the skin. By harnessing the power of bi-polar radio frequency (RF) and infrared (IR) technology, as well as vacuum tissue manipulation and mechanical tissue manipulation, this innovative new non-surgical technique has revolutionized the industry. And the positive evidence continues to mount up as VelaShape III exceeds expectations in a plethora of clinical trials and over 3.5 million independent treatments.
How VelaShape III Works
VelaShape III is a revolutionary, non-invasive body sculpting technique that uses a combination of thermal and vacuum energies to reduce the appearance of cellulite and improve skin tone. As the mechanism passes gently over your body, the thermal activity heats the skin to an optimal treatment level, stimulating the body's natural collagen production. The vacuum action then adds additional stress to the fat cells, which tighten and firm up, reducing the appearance of cellulite. Improvements are typically seen after the first treatment, with up to three follow-up treatments often recommended. Benefits of VelaShape II include:
Short, non-invasive treatment sessions

Excellent results within 1-3 treatments

No downtime and minimal discomfort, if any

Improvement of skin tone and texture

Tightening of loose or sagging skin

Reduction in size and circumference of treatment zone
VelaShape III body contouring treatments are safe and effective for all skin and body types. Many patients find the sessions very relaxing, similar to a warm, deep tissue massage. After your session is finished you can go immediately back to your daily routine, with no discomfort or downtime.
VelaShape III Body Contouring Before & After Photos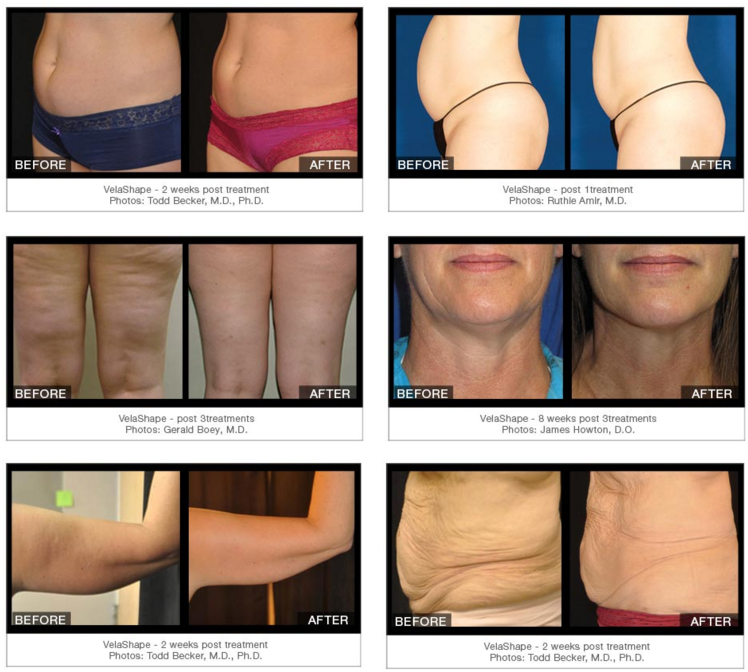 Contact Rejuvenate Medical Spa
Our goal at Rejuvenate Medical Spa is to ensure that each and every patient receives customized treatments designed to meet their individual aesthetic goals, correct any pressing cosmetic concerns, and enhance their natural beauty. All procedures at Rejuvenate Medical Spa are overseen by our Medical Director, Dr. Bijan Farah. 
If you would like additional information about how VelaShape III and our body sculpting techniques can safely help you turn back the hands of time, please contact Rejuvenate Medical Spa today.  We look forward to speaking with you and to scheduling your initial consultation with Dr. Farah.
Before & after photos provided velashape.com.