Hyperpigmentation of the Skin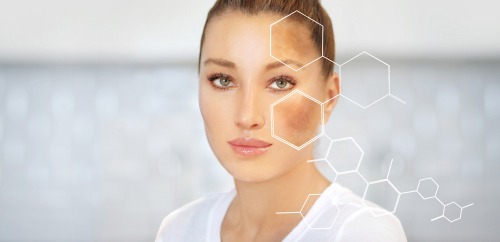 It can get difficult for damaged skin cells to repair themselves as the skin ages. This is particularly true for injury and acne scars. Age spots, freckles, and other forms of hyperpigmentation tend to become more prominent as we age. This has more to do with environmental factors and the fact that melanin and other skin pigments become concentrated in localized areas. Hyperpigmentation is targeted by intense pulsed light (IPL) therapy without affecting the subcutaneous tissues or epidermis. IPL med spa treatment is similar to laser resurfacing. However, unlike laser energy, IPL energy gets absorbed by certain specific tones. Cells that are directly responsible for hyperpigmentation are affected in this instance. Rejuvenate Medical Spa, led by board certified physician Dr. Bijan Farah, provides IPL Photofacial Broadband Light (BBL) skin care treatments to patients in Encino, Sherman Oaks, San Fernando, Calabasas, Woodland Hills, Tarzana, Los Angeles, CA, and surrounding communities.
How Does IPL Work for Hyperpigmentation?
IPL Photofacial treatment makes use of a device that emits a wide range of light frequency for correcting hyperpigmentation. Your treatment provider will choose an appropriate combination of wavelengths based on their initial observation. Series of filters is contained in the device that reflects all unwanted light spectrum frequencies back. All remaining wavelengths get pulsed on the skin in rapid series of flashes. Your epidermal layer doesn't stop the energy which eventually gets absorbed by the pigmented components that make up age spots, freckles, and scars. Quite a bit of energy would be absorbed by the cells after a few pulses. This energy changes its form to heat energy. Pigmented cells making up capillaries and age spots get treated by this therapy. Capillaries eventually begin shrinking. In fact, the smaller ones may even close completely. Healthier cell growth replaces damaged cells soon. You would need a series of therapy sessions for maximum results. There is no downtime required after IPL Photofacial med spa sessions. The results tend to be long lasting. Follow-up treatments are recommended by experts to ensure consistent and long-lasting results.
Prevention is Important
It is true that IPL treatment will reverse hyperpigmentation damage. However, the damage may soon resurface if you don't prevent it. This is particularly true in case the damage is a direct result of UV rays. The best way to prevent hyperpigmentation and resultant spots is by using a sunscreen with at least 30 SPF. This is critical even when you are indoors. You should also consider covering up when stepping outdoors. You could wear wide-brimmed hats and visors for protecting your face. Apply a high SPF sunscreen or cover up if you feel there are certain parts of your body that are more prone to hyperpigmentation. There are several clothing companies that offer lightweight clothing with SPF for added protection and coverage. You should consider dietary changes and topicals to control melasma that occurs because of hormonal fluctuations. In case of acne, make sure you don't excessively pick at them or touch them unnecessarily. Rejuvenate Medical Spa receives patients from Encino, Sherman Oaks, San Fernando, Calabasas, Woodland Hills, Tarzana, Los Angeles, CA, and nearby areas for Broadband Light (BBL) IPL Photofacial skin rejuvenation procedures.
Contact Rejuvenate Medical Spa in the Los Angeles, CA Area 
See all Medical Spa Non-Surgical Procedures Dr. Bijan Farah performs on patients in Los Angeles, Encino, Sherman Oaks, San Fernando, Calabasas, Tazana, Woodland Hills, CA, and surrounding communities. Schedule a consultation now.