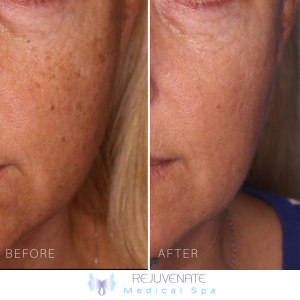 The Perfect Derma Peel is the most advanced and effective medical peel on the market today. Unlike other
chemical peels
, the Perfect Derma includes Glutathione, a strong antioxidant that lightens and brightens the skin, slows down the aging process and helps prevent wrinkles. The Perfect Derma Peel is safe for all skin types and ethnicities. The chemical peel takes about 15 minutes to apply to the face, but
almost any area of the body can be treated!
Not only is it virtually painless, there is minimal downtime and each treatment is tailored specifically to your skin's needs. After the treatment, the treated area will appear sightly red. Peeling will begin within a couple of days and typically lasts up to 7 days. After just one treatment, results will become visible. However, multiple treatments may be necessary for those with moderate to severe concerns.
Benefits of The Perfect Derma Peel
No matter what your skin goals are, this peel has a wide range of benefits:
Improves skin tone, complexion, and texture
Reduces hyper pigmentation
Minimizes appearance of acne scars
Shrinks enlarged pores
Softens fine lines and wrinkles
Produces collagen and elastin
Firms and tightens skin
The Perfect Derma Chemical Peel at Rejuvenate Medical Spa in Encino, California
While there are many chemical peels to choose from, the Perfect Derma Peel has different strengths and formulations and is safe for everyone! Our team of highly trained medical professionals will perform a skincare analysis to find the best treatment option to help you reach your skin goals. If you are in the Los Angeles area, visit
Rejuvenate Medical Spa
in Encino for a personalized treatment plan!