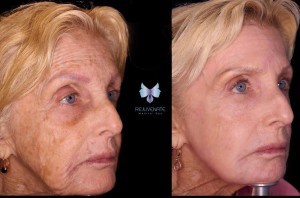 One of the side effects of aging is loose and sagging skin, but you don't have to settle for wearing baggy clothes or hiding your figure because of it. Now we can firm, sculpt, and tighten skin around virtually any area of the face or body with J-Plasma. This minimally-invasive procedure can help you achieve that tight and toned skin you've always wanted without pain or downtime. Significant results can be seen shortly after treatment, but full results are visible a few months after treatment as the skin rebuilds itself.
How the J-Plasma Lift Works
Renuvion by J-Plasma technology restores tight and firm skin. This technology uses inert-helium plasma and radio frequency (RF) energy to shrink excess or loose skin caused by aging or weight loss. It can also be administered sub-dermally after a liposuction procedure to keep the skin tight and taut after excess fat has been removed. For many patients, the J-Plasma procedure is an effective alternative to the traditional tummy tuck, facelift, and other body and face shaping procedures that involve large incisions.
Areas We Can Treat with the Renuvion by J-Plasma
This revolutionary procedure can firm, tighten, and sculpt the following areas:
Face
Neck
Abdomen
Upper arms
Upper back
Lower back
Bra Line
Breasts
Buttocks
Chest
Flanks knees
Inner thighs
Outer thighs
What to Expect with J-Plasma
Unlike many face and body reshaping and sculpting procedures, results with the J-Plasma procedure are permanent. You will not need to come in for additional treatments and a single treatment will produce results that last for years. Since skin simply shrinks and tightens, results look natural. There are no major scars, and the procedure is usually performed under local anesthesia in about an hour. Over the next few months, collagen forms under the skin which provides further improvement. Most patients return to work within a few days after treatment and can resume workouts in two to three weeks. You can expect to see progressive results for up to 6 to 12 months after your procedure. If you want to learn more about the J-Plasma, schedule a consultation at Rejuvenate Medical Spa. We can evaluate your problem areas and determine whether the J-Plasma procedure is right for you.