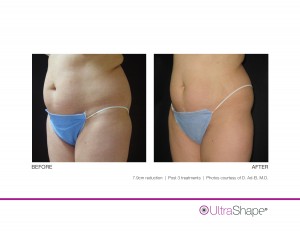 VelaShape III
is an innovative body contouring procedure that combines four unique non-surgical technologies to provide slimmer contours and attractive, youthful looking skin. During the initial consultation, the
med spa
treatment provider will discuss all aspects of the procedure to help the patient make an informed decision. Experienced providers will usually present
VelaShape III
before and after photographs at the time of initial consultation. Rejuvenate Medical Spa, led by
Dr. Bijan Farah
, is a premier provider of VelaShape III procedure. The
medical spa
provides this treatment to patients in Encino, Sherman Oaks, San Fernando, Calabasas, Woodland Hills, Tarzana, CA, and surrounding locations.
What are VelaShape III Before and After Pictures?
Before and after pictures in case of
VelaShape III
non-invasive body contouring treatment refer to a pair or group of images pertaining to a previous patient who has received the same procedure with successful results. The images include pictures taken prior to the procedure and after the procedure at a stage when all treatment sessions at the
med spa
are completed and full results have been established. The treatment provider will obtain these pictures with the explicit consent of the patient and ensure that they are shown to new patients in an appropriate manner. The identity of the patient is usually kept confidential. The sole purpose behind this exercise is to create a credible visual tool that can aid the consultation process for new patients seeking
VelaShape III treatment
. New patients can review the photographs to understand what the procedure can or cannot do for them. The use of digital technology has mesmerized many. There is not one aspect of any industry that this technology has not altered. The medical community is certainly one of them. Now patients can have a strong idea on what this surgeon can do for them without having one meeting with the surgeon. A 5 second moment with a picture of this clarity can save ten minutes of conversation with the surgeon trying to explain what he or she can do for the patient. Now the patient has a much better explanation on what to expect before they ever walk into the surgeon's office because they can look at several pictures on the website which can help them become a more informed patient.
Benefits
VelaShape III procedure can create multiple improvements in terms of skin tightening, circumference reduction, cellulite removal and skin tone and texture enhancements. Various before and after photos related to previous patients can reveal different aspects of the treatment. For a new patient, who may be apprehensive about an innovative, non-invasive body contouring procedure such as VelaShape III, such photos can be very reassuring. Some patients may need to combine VelaShape III with other procedures to meet their personal aesthetic needs. The treatment may be required in one particular area of the body or multiple areas. The patient can make best decisions in such cases when they have access to VelaShape III before and after photos. Rejuvenate
Medical Spa
receives patients from Encino, Sherman Oaks, San Fernando, Calabasas, Woodland Hills, Tarzana, CA, and nearby areas for this treatment.
Staying Realistic
An experienced treatment provider will like to ensure that the patient is under no wrong impressions about VelaShape III treatment, and they have a realistic and factual understanding of the expected results. Therefore, the provider will prefer to present VelaShape III before and after photos at the very outset. It will help the patient to know what to expect and what not to expect from the procedure.
Online Photos
The medical spa provider may upload the before and after photos on their practice website for free access to all patients. New patients can conveniently review the photos online and decide whether to go ahead with a personal VelaShape III consultation at the med spa.
See all Medical Spa Non-Surgical Procedures Dr. Bijan Farah performs on patients in Encino, Sherman Oaks, San Fernando, Calabasas, Tazana, Woodland Hills, CA, and surrounding communities. Schedule a consultation now.