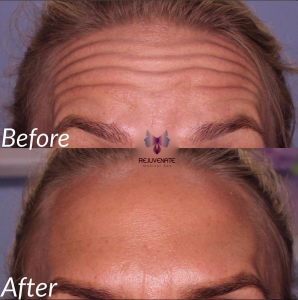 What is Botox®?
Do the appearance of fine lines and wrinkles make you look older than you actually are? BOTOX® could be the solution that will reduce the unflattering appearance of unwanted wrinkles in 48 hours or less. BOTOX® is an FDA approved treatment that will temporarily relax muscle functions to conceal the appearance of fine lines and wrinkles. BOTOX® can be used for more than just wrinkles, but many other indications:
Slimmer Jawline
Teeth Grinding
Eyebrow Lift
Neck Bands or Cords
Underarm Sweat Reduction
Gummy Smile
Crow's Feet
Marionette Lines
Frown Lines
Under Eye Lines
How to Choose an Injector or Medical Spa
There is no denying that BOTOX® is one of the most popular aesthetic treatments today. However, you cannot simply rely on BOTOX® alone to achieve the best results because the art of the craft lies in the skill of the injector. When it comes to choosing a medical spa, it is very important to choose a physician or nurse who is highly trained and experienced. Your results will vary based on
who
is performing this procedure. Dr. Farah and our team of RN's have completed the most advanced training in BOTOX® injections and have treated thousands of patients.
Book a Consultation!
Before any treatment, our Aesthetic Director will sit down and speak to each patient individually so we can tailor a treatment that will achieve your desired results. Rest assured, you are in good hands at Rejuvenate Medical Spa. Schedule a FREE BOTOX® consultation with our team today!