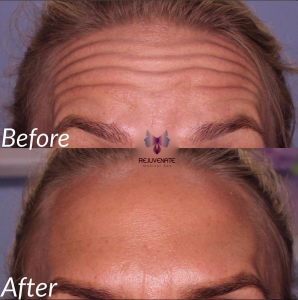 Does the appearance of fine lines and wrinkles make you look older than you actually are? BOTOX® could be the solution that will reduce the unflattering appearance of unwanted wrinkles in 48 hours or less. BOTOX® is a FDA approved treatment that will temporarily decrease muscle function between your eyebrows, which results in the disappearance of fine lines and wrinkles. BOTOX® can be used for many other indications such as eyebrow position, crow's feet around the eyes, neck cords and even underarm sweat reduction!
Don't be fooled by gimmicks and promotions, it is very important to choose a physician or nurse who is highly trained and experienced. Your results will vary based on WHO is performing this procedure. Dr. Farah and our team of RN's have completed the most advanced training in BOTOX® injections, and have treated thousands of patients. We sit down and speak to each patient individually so we can tailor a treatment that will achieve desired results. Rest assured, you are in good hands at Rejuvenate Medical Spa. Schedule a FREE, BOTOX® consultation today!
---
Schedule a Consultation! Ready to get Started?
---
Brilliant Distinctions Loyalty Program earns you instant rebates on future treatments
We handle the whole process for you! This is how it works:
Earn $20 for each Botox treatment* & $20 for each Juvederm syringe*
When we sign you up for the Brilliant Distinctions loyalty program, you'll immediately start earning $20 for Botox* treatments and $20 for every syringe of Juvederm* purchased. The $20 credit will remain in your account and can be used on your next Botox or Juvederm treatment – even during promotions!
You can also earn $18 worth of loyalty points for every purchase of Latisse you make.
Do nothing besides save money at check-out. We manage your BD Loyalty Program for you.
* Botox treatments must be 20 units or more; Botox treatments must be 90 days, or more, apart to qualify for next rebate (as per FDA) – Juvederm treatments can earn special rebates as frequently as you like with a limit of 6 syringe rebates per year.