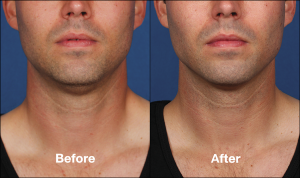 Accumulation of unwanted fat tissue beneath the chin can give the appearance of double chin or triple chin. Liposuction surgery is generally used to remove excess fats from the chin, but many patients do not want an invasive procedure for chin enhancement.
Kybella
is a revolutionary, new
med spa
procedure for such patients, which can reduce chin fat without surgery. Rejuvenate Medical Spa, led by
Dr. Bijan Farah
, provides cutting edge non-surgical aesthetic procedures. Rejuvenate now offers Kybella injections to treat stubborn fat deposits below the chin. The
medical spa
provides this treatment to patients in Encino, Sherman Oaks, San Fernando, Calabasas, Woodland Hills, Tarzana, CA, and other locations.
Approved by the FDA
Kybella
was approved last year by the FDA for the cosmetic reduction of moderate to severe fat tissue beneath the chin, which is the submental area. This makes Kybella the first and only injectable
med spa
procedure for submental fat reduction to be approved by the FDA. Kybella is designed only to treat excess fats in the submental region. Safety and efficacy of Kybella for double chin reduction has been extensively established through various clinical trials and tests. With consistently positive test outcomes, satisfactory feedback of patients, and finally the approval from the FDA, has encouraged Dr. Farah to offer
Kybella
as a non-surgical aesthetic alternative to his patients.
How does Kybella Work?
The key ingredient in Kybella injections is deoxycholic acid, which is a naturally found substance in the human body. This ingredient performs the function of supporting absorption of fats in the body. When Kybella is injected into the submental fat tissue, it triggers the disintegration of the membrane of the targeted fat cells. As a result, the fat cells are selectively eliminated from the area. Caution must be exercised in administering
Kybella injections
because any wrong application may lead to the destruction of healthy skin cells. Experienced treatment providers at Rejuvenate
medical spa
receive patients from Encino, Sherman Oaks, San Fernando, Calabasas, Woodland Hills, Tarzana, CA, and nearby areas for Kybella injections.
Treatment Protocol
Kybella
medication is delivered in injection form directly into the targeted fat tissue under the chin. Multiple injections are usually administered in a single treatment session. The patient may receive a maximum of six treatments spaced at least one month apart. Kybella drug is currently sold in single patient use vials. It should not be diluted or mixed with any other compounds.
Selecting a Qualified Provider
Kybella is an advanced injectable procedure, which should only be performed at a qualified medical spa under the supervision of an expert. Amy G. Egan, M.D., M.P.H., deputy director of the Office of Drug Evaluation III in the FDA's Center for Drug Evaluation and Research, recommends that
Kybella treatment
should only be offered by licensed medical professionals. Patients should also be aware of the approved usage of Kybella injections. According to Egan, treatment providers as well as patients should be aware that Kybella has only been approved for the reduction of submental fat, and its suitability for other areas is not yet known.
See all Medical Spa Non-Surgical Procedures Dr. Bijan Farah performs on patients in Encino, Sherman Oaks, San Fernando, Calabasas, Tazana, Woodland Hills, CA, and surrounding communities. Schedule a consultation now.