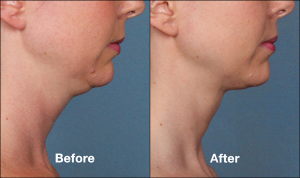 Minimally invasive cosmetic procedures received at a qualified
med spa
can offer significant improvement in the way a person looks. The annual figures compiled by the American Society of Plastic Surgery continue to demonstrate a consistently growing demand for non-surgical injectable procedures such as Botox and dermal fillers. Botox, arguably the most popular facial anti-aging injectable treatment in the world, is produced by Allergan, Inc. Now the company has introduce
Kybella
, another FDA approved injectable treatment designed to dissolve fat below the chin.
Rejuvenate Medical Spa
, led by Dr. Bijan Farah, provides Kybella to patients in Encino, Sherman Oaks, San Fernando, Calabasas, Woodland Hills, Tarzana, CA, and surrounding locations.
Key to Success
The key to success with a procedure such as
Kybella injectable treatment
to enhance the neckline lies in consulting a comprehensive
med spa
that is equipped to provide a full array of non-surgical aesthetic options. At such a center, a patient can expect to receive the appropriate treatment modality for their unique circumstances. Just as with any surgical procedure, even for a non-surgical treatment such as Kybella, there are appropriate candidates as well as patients with contraindications. The first step is to choose a
medical spa
where comprehensive evaluation and care is available for patients with a specific aesthetic concern such as excess fat deposits under the chin. The patient should ideally avoid a place where the only treatment option they offer is Kybella injections. It is important to remember that "if all you have is a hammer the whole world is a nail," which rings true for cosmetic service providers who may only offer a single treatment option such as Kybella.
When to Choose Kybella?
Kybella injections
are currently approved by the FDA only for the cosmetic fat reduction of submental fat. The ideal candidate will have reasonably elastic skin in the area below the chin. The adipose tissue excess in the submittal and chin neck angle will only be mild to moderate. The candidate should not have a major discrepancy of the mandibular jaw with the midface, or have an exceptionally steep mandibular plain angle.
Who should Avoid Kybella Injections?
If the patient has significant skin laxity in the neck area, or a considerable deflation of the neck due to weight loss with demarcated platysmal bands should avoid Kybella injectable procedure. In such a condition, if fat tissue is reduced with Kybella, it will only worsen the deformity. Kybella treatment should also be avoided for patients suffering from a deep underbite and a small chin with an oblique chin-neck angle. The key ingredient in Kybella is deoxycholic acid, which is meant to dissolve fat. But this biochemical also produces some inflammation to promote skin retraction and collagen production. Therefore, loose skin with a recessed chin and an oblique chin neck angle is not likely to produce substantive positive outcomes. Chin implants and liposuction may be the right treatment combination in such cases. Rejuvenate medical spa receives patients from Encino, Sherman Oaks, San Fernando, Calabasas, Woodland Hills, Tarzana, CA, and nearby areas for Kybella.
See all Medical Spa Non-Surgical Procedures Dr. Bijan Farah performs on patients in Encino, Sherman Oaks, San Fernando, Calabasas, Tazana, Woodland Hills, CA, and surrounding communities. Schedule a consultation now.