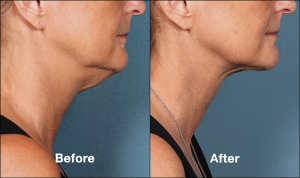 Many women and men are unhappy with their unsightly appearance of double chin, which may occur due to stubborn fat tissue deposits under the chin. Although liposuction plastic surgery procedure is available to treat this condition, but many patients are reluctant to choose invasive surgery. Such patients may now receive the benefit of
Kybella
med spa
injectable treatment to reduce double chin without surgery.
Rejuvenate Medical Spa
, led by Dr. Bijan Farah, provides cutting edge cosmetic procedures such as Kybella injections to reduce double chin. The
medical spa
provides Kybella and other procedures to patients in Encino, Sherman Oaks, San Fernando, Calabasas, Woodland Hills, Tarzana, CA, and surrounding locations.
Proven Safety and Efficacy
In 2015, the FDA gave its approval for
Kybella injectable treatment
for the cosmetic reduction of moderate to severe pockets of unwanted fat under the chin. With this approval, Kybella now holds the distinction of being the first and only injectable
med spa
procedure to be approved by the FDA specifically for chin fat reduction. A number of scientific studies and clinical trials have successfully demonstrated the safety and effectiveness of Kybella for fat reduction in the submental area. Positive feedback from both patients and physicians has further added to the rapidly rising popularity of this treatment. Rejuvenate
medical spa
receives patients from Encino, Sherman Oaks, San Fernando, Calabasas, Woodland Hills, Tarzana, CA, and nearby areas for Kybella.
How does Kybella Work?
The primary active ingredient in Kybella injections is deoxycholic acid. This is a natural occurring agent in the human body, which makes Kybella a biocompatible medication. This biochemical performs the function of supporting natural fat absorption in the body. When this active agent is delivered to the targeted fat layers underneath the chin via Kybella injections, it triggers disruption of the cellular membrane in the unwanted fat cells. The fat cells consequently start getting eliminated from the area. It is important to recognize that
Kybella injections
are powerful, and should only be administered by a qualified provider. An incorrect delivery of the injections can result in unintended disintegration of surrounding healthy tissue in the chin area.
How to Select a Kybella Provider?
Amy G. Egan, M.D., M.P.H., deputy director of the Office of Drug Evaluation III in the FDA's Center for Drug Evaluation and Research recommends that only a licensed medical professional should offer Kybella injections. The treatment provider should inform the patient beforehand about the risks and complications that may be associated with Kybella drug. The provider should also inform the patient that the FDA has approved Kybella only for the treatment of submental fat below the chin. Kybella's efficacy in treating fat pockets in other parts of the body is not yet established.
Injection Protocol
The provider should place the Kybella injections directly into the targeted fat tissue under the chin. Multiple injections are usually provided in one treatment session. The patient may receive a maximum of six Kybella treatments, with each session at least four weeks apart. Kybella drug must not be diluted or blended with other compounds.
See all Medical Spa Non-Surgical Procedures Dr. Bijan Farah performs on patients in Encino, Sherman Oaks, San Fernando, Calabasas, Tazana, Woodland Hills, CA, and surrounding communities. Schedule a consultation now.