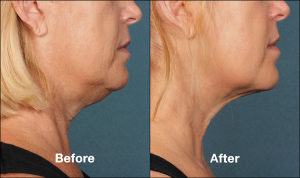 Age, heredity factors, and sedentary lifestyles can result in accumulation of stubborn fats in the submental area, creating the appearance of a double chin. While liposuction surgery is a solution to reduce submental fat, many patients seek a non-surgical
med spa
treatment to improve the chin appearance.
Kybella
is an FDA approved injectable treatment for double chin reduction.
Rejuvenate Medical Spa
is one of the leading facilities to offer Kybella injections for chin fat reduction. At the time of initial consultation, the Kybella expert at the
medical spa
will discuss all aspects of the procedure, including its estimated costs. The first priority of the provider is to ensure that the patient makes an informed choice. Rejuvenate provides
Kybella
to patients in Encino, Sherman Oaks, San Fernando, Calabasas, Woodland Hills, Tarzana, CA, and surrounding locations.
Comparing the Price with Liposuction
Patients should compare the costs of Kybella submental fat reduction injections against liposuction surgery. In almost every case, it is likely that the cost of
Kybella chin fat reduction treatment
will be significantly lower as compared to liposuction surgery. Liposuction may be performed using anesthesia, which will add the fee of the anesthesiologist or a certified anesthetist nurse. Sometimes laser, ultrasound or RF technologies may be combined with liposuction, which make the procedure less invasive, but are usually more expensive. Liposuction will also involve the costs of a surgical facility, while Kybella can be performed in-office. Post-operative costs such as medical tests, prescription medications, surgical garments, and visits to the treatment provider's office are typically added to liposuction procedure. But in case of Kybella
med spa
treatment, post-op costs are almost entirely avoided. Working people should also note that liposuction surgery will involve several days of downtime. This may have an impact on their income in some cases, which should be accounted for.
Kybella injections
, on the other hand, involve minimal downtime, and the patient can return to work quickly. Rejuvenate
medical spa
receives patients from Encino, Sherman Oaks, San Fernando, Calabasas, Woodland Hills, Tarzana, CA, and nearby areas for Kybella.
Financial Factors
The average stipulated cost of
Kybella injectable treatment
can vary from one practice to another, and even from one patient to another in some cases. The treatment provider will evaluate the patient's neck and facial anatomy, consider their body weight and appearance, and account for their personal aesthetic goals to prepare a customized Kybella injection plan. The number of injections received in a single treatment session will vary according to the specific needs of the patient. Multiple treatment sessions are usually involved, and most patients will require two to four sessions. In more severe cases, the provider may recommend up to six treatment sessions. The first treatment session generally involves a higher number of Kybella injection vials, and the quantity may progressively reduce with each session. The monetary amount of
Kybella treatment
will be most determined according to the total number of vials used, the extent of treatment and the number of treatment sessions involved. Patients who combine the treatment with other procedures may receive a package rebate from the provider in some cases.
See all Medical Spa Non-Surgical Procedures Dr. Bijan Farah performs on patients in Encino, Sherman Oaks, San Fernando, Calabasas, Tazana, Woodland Hills, CA, and surrounding communities. Schedule a consultation now.