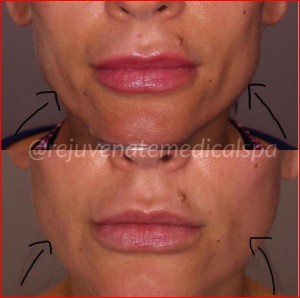 Bellafill is an FDA approved dermal filler treatment to reduce the effects of facial aging and restore tighter and smoother facial skin. This
med spa
procedure can produce results that will typically last much longer than in the case of other dermal fillers. The results may even be permanent in some cases.
At the time of initial consultation, the treatment provider will explain all about Bellafill facial filler and estimated longevity and benefits. Rejuvenate
Medical Spa
provides Bellafill treatment to patients in Encino, Sherman Oaks, San Fernando, Calabasas, Woodland Hills, Tarzana, Los Angeles, CA, and surrounding locations.
Immediate and Long-Term Effects
Bellafill dermal filler is formulated with microspheres of a biocompatiable synthetic known as PMMA (polymethylmethacrylate). Once the filler gel is injected into the depleted areas of the face, it will transport collagen to the deeper layers. The
med spa
treatment is especially effective in reducing facial wrinkles around the mouth, commonly known as laugh lines.
The treatment will create immediate effects in terms of the improvement of the skin appearance because the Bellafill gel will smooth out conspicuous facial lines and wrinkles by filling in the depressions. The long term benefits will also occur because the PMMA microspheres will help to stimulate the generation of new collagen fibers. This will build a lasting structural framework within the skin to support the sub-dermal layers.
Clinical Studies
Clinical studies have been carried out to determine the longevity and impact of Bellafill dermal filler injections. While the FDA had approved this filler injection for improving the nasolabial folds way back in 2006, the studies continued to test the sustainability and effectiveness of Bellafill.
When the study reached its five-year mark, it was found that 90 percent of the patients treated with Bellafill were "very satisfied" or "satisfied" with their treatment. Therefore, even after five years of treatments, patients continued to report benefits of Bellafill.
Over the years, patients have also reported that often the results will progressively get better with the passage of time. A 10-year study is currently underway to officially determine the 10 year mark for Bellafill. According to some researchers, the results with Bellafill dermal filler can also be permanent.
This extensive level of longevity for a non-surgical cosmetic injection procedure sets Bellafill apart from most other dermal filler injections. Rejuvenate
Medical Spa
receives patients from Encino, Sherman Oaks, San Fernando, Calabasas, Woodland Hills, Tarzana, Los Angeles, CA, and nearby areas for Bellafill procedure.
Clinical Trial
Bovine collagen is a key ingredient in Bellafill along with PMMA, which provides temporary correction for about three months, until the body's natural collagen is formed. To study the effectiveness and longevity of Bellafill, a one-year US clinical trial comprising 250 patients was conducted. The trial evaluated the safety and efficacy of Bellafill compared to another collagen control for nasolabial folds.
It was found that at the end of six months evaluation period, wrinkle correction with Bellafill continued, while the patients treated with collagen control return to their pre-treatment levels. Even at the end of one year, wrinkle control effectiveness of Bellafill was similar to that at six months.
See all Medical Spa Non-Surgical Procedures Dr. Bijan Farah performs on patients in Encino, Sherman Oaks, San Fernando, Calabasas, Tazana, Woodland Hills, CA, and surrounding communities. Schedule a consultation now.