Fraxel Acne Blemish Laser Treatment - Encino | Sherman Oaks | San Fernando
Dr. Bijan Farah
, a board certified physician with expertise in internal and emergency medicine, provides state of the art aesthetic and
anti-aging
treatments without surgery. He heads Rejuvenate
Medical Spa
, a facility that is equipped to provide safe and proven non-invasive and minimally treatments. It receives patients from Encino, Sherman Oaks, San Fernando, Calabasas, CA, and surrounding communities. A key advantage for patients at Rejuvenate
med spa
is that it operates under the direct guidance and supervision of Dr. Farah, who has more than 35 years of experience in medicine. His expertise lies in treating a variety of complex, acute, and chronic medical conditions. Apart from providing innovative
anti-aging
and cosmetic procedures at his medical spa, Dr. Farah also serves as an attending Staff Physician in the Department of Internal Medicine at Providence-Tarzana Regional & Northridge Medical Centers.
What is Fraxel?
Fraxel is an advanced non-surgical technology that can help reduce the signs of aging from the skin with laser therapy. Different forms of aging can be addressed effectively through various treatment options that Fraxel laser provides. People in Encino, Sherman Oaks, San Fernando, Calabasas, CA, and nearby areas who are looking to achieve subtle improvements in the skin appearance without resorting to surgery may be suitable candidates for Fraxel. At Rejuvenate
Medical Spa
, Dr. Farah may also recommend Fraxel treatment to patients who are too busy and may not be able to choose a surgical treatment due to the long recovery period involved. Many patients are not keen to achieve very dramatic or 'plastic' looking results. Fraxel can be a suitable treatment option for such patients because the results are more gradual and natural looking with it.
How does it Work?
Fraxel is a fractional laser treatment that achieves results from inside out by working underneath the skin's surface from the top down. It is an ideal
anti-aging
treatment for the face to reduce minor wrinkles, fine lines, scarring, visible photo aging, and age spots. The laser light that emanates from Fraxel is designed to penetrate into the deeper layers of the targeted skin area. It causes bio-stimulation of the natural collagen in the skin, causing the skin to firm up naturally and wrinkles to fade away.
Due to precision laser technology, it is possible to achieve very conservative and precise outcomes with Fraxel. At Rejuvenate med spa, Fraxel is commonly used to treat the following conditions:
      Wrinkles and fine lines on the face such as frown lines and crow's feet around the eyes.
      Effects of acne and other types of surface scars can be reduced.
      Age spots or the results of pigmentation of skin.
      A common pre-cancerous condition called Actinic Keratosis (AK).
Fraxel is also used to achieve skin rejuvenation in areas where the wrinkles have not formed fully. It can act as a preventive treatment to delay the onset of loose skin and wrinkles.
Results
Fraxel treatment has already been in use for more than a decade now. Its safety and effectiveness are proven through several clinical studies and actual feedback of patients around the world. A single treatment session with Fraxel may last anywhere between 15 and 45 minutes. Best results may be achieved in one to five treatment sessions, depending on the patient's condition and aesthetic goals. Results will typically become visible in full effect after about one to three weeks. This is because Fraxel works naturally with the body's skin cells to produce subtle, gradual, and natural looking results.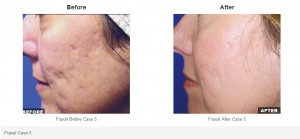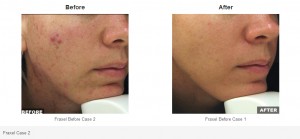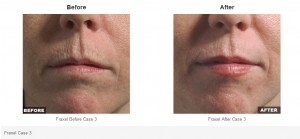 Safety and Side Effects
Fraxel fractional laser treatment is fairly mild, compared to other intensive laser therapies provided at several
medical spas
around the country. The treatment avoids all the side effects and risks that are typically associated with a surgical procedure. Patient comfort remains high during and after Fraxel treatment. A majority of patients experience a light sunburn kind of a sensation in the treated area immediately after the procedure. Treatment approaches can be customized according to the needs of patient. Therefore, the patient should address all concerns at the med spa at the time of initial consultation for Fraxel. Fraxel has proved to be an effective and safe treatment for multiple indications. More than 800,000 Fraxel procedures have been performed till date. However, the patient should discuss the side effects with the doctor at the
med spa
, particularly for peculiar skin types and conditions. According to the manufacturer's own figures, Fraxel technology is used in more than 80 countries around the world. About 2,500 physicians offer Fraxel treatments. The manufacturer has received over 45 patents for its unique fractional laser technology. More than 55 peer reviewed articles have been published about the effectiveness of Fraxel.