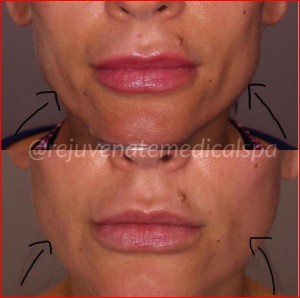 Bellafill dermal filler is an advanced
med spa
injectable procedure to rejuvenate the facial appearance. During the initial consultation, the treatment provider will explain about the ingredients, benefits and other aspects of Bellafill gel injections. Some providers may also present Bellafill dermal filler before and after photographs before the patient.
The first concern of a responsible provider will be to educate the patient about all aspects of Bellafill soft tissue filler procedure and help them make an informed choice. Rejuvenate
Medical Spa
offers state of the art cosmetic procedures, including Bellafill, to patients in Encino, Sherman Oaks, San Fernando, Calabasas, Woodland Hills, Tarzana, Los Angeles, CA, and surrounding locations.
What are Bellafill Before and After Images?
Before and after images in case of Bellafill dermal filler
med spa
treatment refer to a pair or group of pictures pertaining to a previous patient who has received the same injectable procedure with satisfactory results. The pictures include images taken prior to the injections and after the injections at a stage when the initial redness and swelling is eliminated and full effects of the filler treatment are visible.
The treatment provider will take care to ensure that the photographs are obtained with the consent of the patient and presented before new patients in an appropriate manner. The patient's identity may be kept confidential as needed. The sole purpose behind this exercise is to use the photos as a visual tool to explain the potential effectiveness of Bellafill dermal filler to new patients.
Benefits
For a new patient who may be trying a dermal filler injectable procedure for the first time, it is important to feel assured about how the treatment will improve the facial wrinkles and fine lines, and whether it will meet the personal cosmetic goals of the patient. Some patients may require only limited treatment in one area of the face, while some others may need more pervasive treatment in multiple areas.
In some cases, the
medical spa
treatment provider may recommend Bellafill injections in conjunction with another non-surgical aesthetic procedure. In all such situations, the patient is in the best position to make the right decisions when they have access to Bellafill dermal filler before and after photos.
Reasonable Expectations
Experienced providers know that most satisfying outcomes in any cosmetic procedure are achieved when the patient has reasonable expectations, and understands what exactly the procedure can or cannot do for them. Therefore, the provider will prefer to present Bellafill dermal filler before and after photos at the very outset.
This will mitigate the risk of any disappointment occurring for the patient at a later stage. Rejuvenate medical spa receives patients from Encino, Sherman Oaks, San Fernando, Calabasas, Woodland Hills, Tarzana, Los Angeles, CA, and nearby areas for Bellafill and various other non-surgical aesthetic procedures.
Online Photos
The treatment provider has an option to present Bellafill before and after photos on their practice website. This will allow free access to new patients who can view the photos in the comfort and privacy of their home or office.
The change maker here is digital technology. Push away those vague brochures or picture books with pictures that are faded, now we have digital technology and website photos at our disposal that not only show anyone vivid examples on what to expect you can see these pictures without notifying anyone.
It is a brave new world and website pictures helps the surgeon and their staff since they know anyone who signs up for Bellafill dermal filler knows what they are signing up for.
These website pictures also help the patient as already indicated since the patient knows what they are signing up for. The clarity of these pictures are fabulous. Anyone can take what they see with these pictures and apply them to their own body and come out with a terrific picture in their head on how this procedure will look on them. This negates the anxiety on the patient and even on the surgeon such as Dr. Farah.
See all Medical Spa Non-Surgical Procedures Dr. Bijan Farah performs on patients in Encino, Sherman Oaks, San Fernando, Calabasas, Tazana, Woodland Hills, CA, and surrounding communities. Schedule a consultation now.