IPL PHOTOFACIAL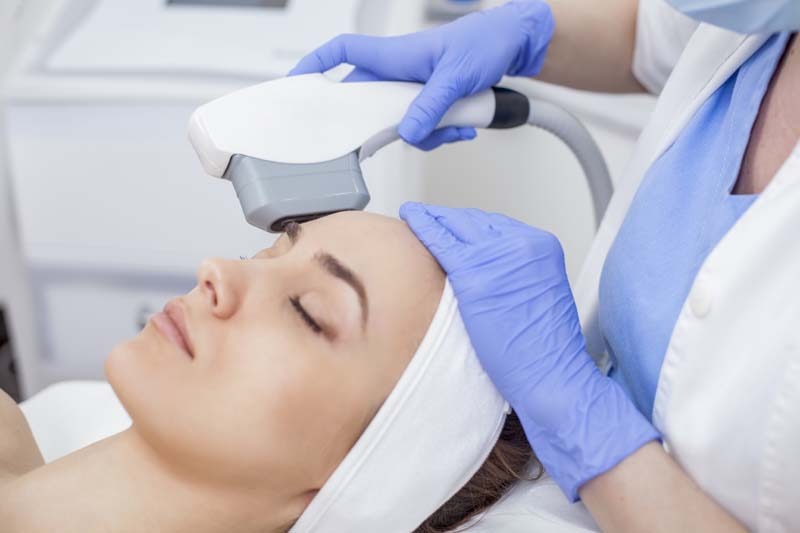 Sciton's IPL Photofacial with Broadband Light (BBL) technology is a safe, dependable, and effective treatment for skin enhancement. It sets a new standard for treating skin conditions associated with acne, aging, loss of firmness, sun damage, and unwanted hair. BBL is one of the most powerful IPL (Intense Pulsed Light) devices in the world. New standards are set for treating skin conditions associated with active lifestyles, aging, and sun damage. Upper layers of your skin will be gently heated by the light energy delivered through BBL. Your skin cells will be stimulated for regeneration when heat is absorbed by the targeted areas. This process will help restore your skin to its youthful and natural beauty. It will become smoother, clearer, younger looking, and more vibrant. Your physician can treat sun spots, age spots, and small facial veins among other skin conditions through med spa IPL Photofacial. The physician will customize the treatment plan to match your skin type and achieve desired results. Many skin concerns can be resolved by IPL Photofacial including:
Small blood vessels
Age spots
Freckles
Rosacea
Acne
Sun damage
Loss of firmness
Hyperpigmentation
Rejuvenate Medical Spa, led by board certified physician Dr. Bijan Farah, provides IPL Photofacial Broadband Light (BBL) skin care treatments to patients in Encino, Sherman Oaks, San Fernando, Calabasas, Woodland Hills, Tarzana, Los Angeles, CA, and surrounding locations.
IPL Photofacial with Broadband Light Process
BBL (BroadBand Light) is an intense pulsed light (IPL) device that targets sun damage, pigment, and superficial signs of aging. It also promotes youthful looking skin. You can wear makeup and start working out after getting pigment treatment with BBL within 24 hours. You should refrain from consuming alcohol or working out for 72 hours if you had redness in the skin, rosacea or broken capillaries treated. The practitioner will provide you with specialized instructions regarding care post treatment. You may need 2 to 6 BBL treatments over a course of 1 to 3 years. It is recommended to give maintenance treatments performed. Your treatment provider will determine whether you are a suitable candidate or not during the initial consultation.
Results and Recovery
You should be able to see results in just 1 to 2 weeks. Exposure to natural and artificial light and the continued aging of your face will affect the longevity of your results. However, in most cases results last for anywhere from 6 months to a year.
Number of IPL Photofacial Treatment Sessions Required
Your desired results and skin condition will determine the number of IPL treatment sessions required. Your provider will customize a treatment based on your individual needs. Six treatment sessions are recommended for acne and four sessions for red and brown pigmentation.
BBL is a Newer Protocol
Sciton BBL was recently part of a Stanford study in which a unique protocol using varying wavelengths was employed. The two-step process helped in improving color, texture, and tone of the skin. This unique protocol produced superior results involving skin rejuvenation. Rejuvenate Medical Spa receives patients from Encino, Sherman Oaks, San Fernando, Calabasas, Woodland Hills, Tarzana, Los Angeles, CA, and nearby areas for Broadband Light (BBL) IPL Photofacial skin rejuvenation procedures.
Contact Rejuvenate Medical Spa in the Los Angeles, CA Area 
See all Medical Spa Non-Surgical Procedures Dr. Bijan Farah performs on patients in Los Angeles, Encino, Sherman Oaks, San Fernando, Calabasas, Tazana, Woodland Hills, CA, and surrounding communities. Schedule a consultation now.