Vi Chemical Peel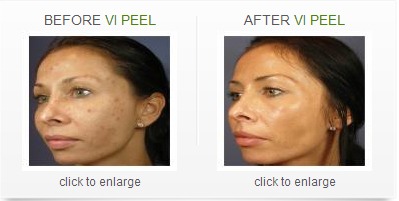 A number of medical spa experts recommend the
Vi Peel
for the treatment of fine lines, acne, acne scarring, rosacea, sun spots, age spots, hyperpigmentation, and melasma. The Vi Peel (Vitality Institute) is a powerful yet gentle medical-grade chemical peel, which works wonders for overall skin health, including oil balancing, and enlarged pores. Rejuvenate Medical Spa, led by Dr. Bijan Farah, provides Vi Peel skin rejuvenation treatment to patients in Encino, Sherman Oaks, San Fernando, Calabasas, Woodland Hills, Tarzana, Los Angeles, CA, and surrounding communities.
Components of Vi Peel
A Vi Peel is an effective and safe treatment for several skin disorders. Med spa experts recommend this treatment since it is safe for all skin colors and types. It can be used on neck, chest, back, arms, and legs in addition to the face. In fact, the Vi Peel is the only known peel that is safe to be used under the eye. It involves minimal downtime and is virtually painless. The magic of this treatment is within its formula. The Vi Peel is a blend of Tretinoic Acid, Trichloroacetic Acid (TCA), Vitamin C, Salicylic Acid, and Phenol among various minerals. These components work together to remove any damaged layer of the skin. It promotes cellular turnover and refines the skin's surface for a smoother, firmer, clearer, and more youthful look.
Ideal Candidates for the Vi Peel
The Vi Peel is usually recommended by medical spa providers for people with medium to fair skin color. An ideal candidate would be looking for moderate to mild overall skin improvement, reversing early signs of aging or healing acne. The Vi Peel may cause hyperpigmentation in people with darker skin tones.
The Vi Peel Process
The Vi Peel process is a relatively painless treatment for most people. However, people with ultra-sensitive skin may experience a mild tingling to burning sensation. The skin during the process is cleansed before a solution is evenly applied. The first phase of solution application is done to penetrate the surface skin cells while the second phase is to allow the solution to penetrate deeper. This is where dead skin cells and toxins are. It doesn't take more than 5 hours for the solution to work its magic. You can go about your daily activities after washing it off. There are no common side effects of the Vi Peel treatment. Your skin may start to peel off in a day or two and will continue to look red for about a week. But, that is expected and only shows that the peel is working.
Time Taken For Complete Benefits to Show
The Vi Peel treatment helps in attaining a clearer, brighter, and more radiant skin. You will be able to see visible improvements after the first treatment. However, these are only minor improvements. Several treatments spaced 3 – 4 weeks are recommended for ideal results. Most med spa experts recommend at least 3 – 4 treatments. Rejuvenate Medical Spa receives patients from Encino, Sherman Oaks, San Fernando, Calabasas, Woodland Hills, Tarzana, Los Angeles, CA, and nearby areas for Vi Peel treatment to revitalize and repair damaged skin.
Contact Rejuvenate Medical Spa in the Los Angeles, CA Area 
See all Medical Spa Non-Surgical Procedures Dr. Bijan Farah performs on patients in Los Angeles, Encino, Sherman Oaks, San Fernando, Calabasas, Tazana, Woodland Hills, CA, and surrounding communities. Schedule a consultation now.