What is Vaginal Rejuvenation?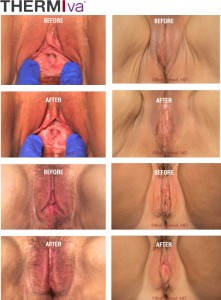 Childbirth, aging, heredity, and other factors can sometimes create muscle and tissue laxity in the vaginal canal. If a woman is bothered by the lax appearance of the vagina due to weak tissue, she may choose an advanced non-surgical
med spa
vaginal rejuvenation procedure called ThermiVa. With this safe and proven treatment, it is possible to restore the pre-pregnancy appearance and feel of the vagina. ThermiVa vaginal tightening procedure can be performed in an office setting, and does not involve any cuts, incisions, injections or medications. Rejuvenate
Medical Spa
, led by Dr. Bijan Farah, provides ThermiVa vaginal rejuvenation to patients in Encino, Sherman Oaks, San Fernando, Calabasas, Woodland Hills, Tarzana, Los Angeles, CA, and surrounding communities.
RF Technology Based Treatment
ThermiVa vaginal rejuvenation procedure is based on the advanced radio frequency (RF) technology to improve vaginal looseness and vulvar sagging in a completely non-invasive way. The
med spa
treatment provider will deliver controlled RF energy directly to the affected vulvo-vaginal area. The heat generated in the process will evenly penetrate into the deeper vaginal tissue to contract it into a tighter bundle. ThermiVa will help to tighten the outer labia as well as improve internal vaginal laxity. The RF heat energy will also help to trigger the new production of collagen fibers for more natural looking and sustainable outcome from within. Tissue and nerve healing may also occur in the process as RF is known to provide therapeutic benefits for muscle and tissue healing.
Focus Areas of the Treatment
ThermiVa RF system will focus on the following aspects:
Vaginal Laxity
ThermiVa will provide vaginal tightening at the opening as well as the full length of the vagina. Both the patient and her partner can feel noticeable improvement.
Vulvar/Labial Laxity
The procedure will reduce labial tissue sagging and tighten the vulvar area. Skin will become supple and smooth. The patient will feel more confident to wear tighter clothes after the full effects of the treatment are established.
Vaginal/Vulvar Dryness
Softer and thicker skin will be generated with ThermiVa treatment, and it will allow for moisturizing of the external and internal areas. As the dryness is reduced, the patient will feel more comfortable and it will also help improve their sexual activity.
Stress Incontinence
If the patient has suffered from mild to moderate stress incontinence following childbirth, it can be addressed with ThermiVa treatment. The procedure may reduce the incidence of urinary leakage and also mitigate the urge symptoms.
Sexual or Orgasmic Dysfunction
In some cases, ThermiVa may lead to enhanced sensitivity, more coordinated and robust muscular contractions, and an improved ability to achieve orgasms in a shorter time period.
Benefits
Some of the vital benefits of ThermiVa RF vaginal rejuvenation system include:
Treats both labia major and the vagina
Helps in tightening of the vulvovaginal tissue
Helps generate fresh collagen fibers
Soft, smooth and tight skin
Controlled heating and no blisters or burns
Minimal downtime and no restriction on sexual activity
No stinging or pinching sensation
Rejuvenate
Medical Spa
receives patients from Encino, Sherman Oaks, San Fernando, Calabasas, Woodland Hills, Tarzana, Los Angeles, CA, and nearby areas for ThermiVa.
See all Medical Spa Non-Surgical Procedures Dr. Bijan Farah performs on patients in Los Angeles, Encino, Sherman Oaks, San Fernando, Calabasas, Tazana, Woodland Hills, CA, and surrounding communities. Schedule a consultation now.