Juvederm Voluma Anti-Aging - Encino, Sherman Oaks, San Fernando, Calabasas, CA
Rejuvenate
Medical Spa
is led by Dr. Bijan Farah, who provides state of the art treatments for
anti-aging, acne, hair loss
and aesthetic enhancement of the face, body, and skin. Patients in Encino, Sherman Oaks, San Fernando, Calabasas, CA and nearby communities can receive treatments such as
Botox, Juvederm
and others at the
med spa
. Juvederm Voluma is one of the most effective facial volumizing treatments available at Rejuvenate.
What is Juvederm Voluma?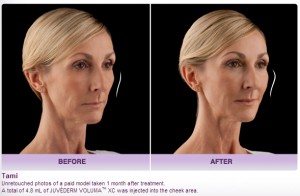 Juvederm Voluma
is a cutting-edge
anti-aging
injectable treatment available at Rejuvenate
Medical Spa
. It is the first and only facial filler treatment that has received the approval from FDA for the purpose of adding volume instantly to the cheek area in order to achieve fuller, augmented cheeks. Patients in and around Encino, Sherman Oaks, San Fernando, and Calabasas, CA have an opportunity to receive this effective, FDA approved treatment at Rejuvenate
med spa
, which operates under the professional guidance and supervision of Dr. Bijan Farah.
Aesthetic Enhancement of the Face
Juvederm Voluma replenishes facial volume that may have been lost due to several factors such as aging, sun exposure, and weight loss. The injectable treatment allows the patient to regain the natural, curvy appearance of cheeks, and helps improve overall facial shape. The treatment is based on hyaluronic acid, which is a natural substance found in the skin to keep it firm and tight. Most patients are able to achieve rounder and fuller facial contours and a youthful facial profile immediately after the injection.
Juvederm
Voluma is based on VYCROSS technology that enables it to work more smoothly and effectively compared to other hyaluronic acid based facial fillers. It includes lidocaine, which eliminates the need to provide local anesthetic separately. It is easier to inject this treatment because the gel is very smooth and consistent. With this treatment, a patient can expect to enjoy results of facial
anti-aging
for up to 24 months. In the case of most other fillers, the results may last only for up to one year.
Who is a Fantastic Candidate?
People who have suffered from loss of facial volume due to any reason, and are looking for non-surgical alternatives, may be outstanding candidates for Juvederm Voluma treatment. The injectable treatment should be received at a
medical spa
that is fully equipped and qualified to provide such treatments. The treatment is designed to replenish lost volume, and make the face appear more youthful instantly. In some cases, the treatment may also be recommended for patients suffering from sagging facial skin or facial asymmetry.
Safe and Proven Treatment
The FDA approved Juvederm Voluma is the first and only dermal filler for its ability to correct age-related loss of volume in cheeks of people over the age of 21. The safety and effectiveness of the treatment was demonstrated by the manufacturer in a comprehensive North American study involving 235 participants. The treatment has received approval in 72 countries, and has been received positively around the world for its ability to restore cheek volume in a safe and non-surgical manner.
See all Medical Spa Non-Surgical Procedures Dr. Bijan Farah performs on patients in Encino, Sherman Oaks, San Fernando, Calabasas, Tazana, Woodland Hills, CA, and surrounding communities. Schedule a consultation now.