Latisse Eye Lash Growth Before And After Photos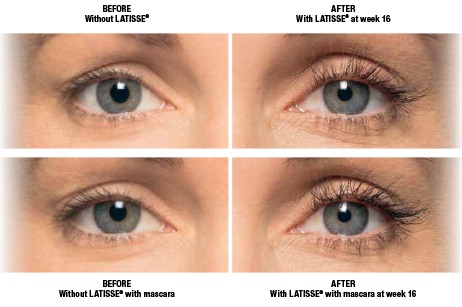 Latisse is a prescription product approved by the FDA that is used for growing eyelashes. Some experienced med spa providers promote the product for off-label use in improving the growth of eyebrows as well. It is recommended that you ask for before and after photographs when you visit a qualified medical spa for your Latisse treatment. This will help in assessing whether the treatment is effective and meets your expectations or not. Rejuvenate Medical Spa, led by Dr. Bijan Farah, provides Latisse eyelash growth treatment to patients in Encino, Sherman Oaks, San Fernando, Calabasas, Woodland Hills, Tarzana, Los Angeles, CA, and surrounding communities.
Process of Taking Before and After Pictures of Latisse Eyelashes
The med spa expert will take photos of untreated eyelashes when a patient decides to commence with Latisse treatment. These pictures will be taken at the beginning of the treatment only after obtaining the patient's consent. In addition, pictures and identity of patients is required to be kept undisclosed. Photos are usually taken at the end of the treatment. But sometimes the photographs can be taken during the treatment as well as at various different stages. These Latisse photographs are only meant to be used as a visual tool for educating patients. Most medical spas offering Latisse eyelash treatment will show their collection of before and after photos during the initial consultation. If not, you can always ask the spa to show these pictures which you are going to have to now because Latisse before and after images are not available on the site. This does not mean they cannot be uploaded at any time though. Few med spas post these pictures on social media platforms as well, such as Instagram, Facebook, and Pinterest.
Importance of Latisse Before and After Pictures
It can be difficult to visualize the treatment and the extent or type of improvements by just hearing it from the Latisse med spa expert. Sometimes, looking at photos can make it easier to understand the full impact. Photos may also correct your expectations if you had them at unrealistically high levels. Make sure you observe the exact extent of changes and the type of eyelash growth while looking at Latisse before and after pictures. This will help you attain a fair understanding of the product and whether it is something you want or not. Latisse is FDA approved to be used for eyelash growth. However, it works differently on different patients. You can have your concerns regarding efficacy and safety addressed accurately by looking at before and after photos. These images can also make it easier for you to make a decision and even more so because digital images are widespread now and that type of clarity was not available decades ago. Digital technology has changed the world and enable anyone to make more salient decisions. Now in terms of plastic surgery, patients can almost predict the future and easily imagine how a particular surgery will look on them because of digital images. Latisse is an affordable treatment when paid for monthly. However, you still need to make sure the treatment provides the kind of enhancements you are looking for. Patients usually find Latisse treatment to be very beneficial. You can attain greater confidence in the treatment plan when you see visible results for yourself. Latisse treatment takes effect gradually. It can be easy to lose focus and waver in consistency or stop the treatment altogether. Looking at photos that were taken during the treatment will provide you with a benchmark to assess the improvements made in your eyelashes. Rejuvenate Medical Spa receives patients from Encino, Sherman Oaks, San Fernando, Calabasas, Woodland Hills, Tarzana, Los Angeles, CA, and nearby areas for Latisse eyelash growth treatment.
Contact Rejuvenate Medical Spa in the Los Angeles Area 
See all Medical Spa Non-Surgical Procedures Dr. Bijan Farah performs on patients in Los Angeles, Encino, Sherman Oaks, San Fernando, Calabasas, Tazana, Woodland Hills, CA, and surrounding communities. Schedule a consultation now.