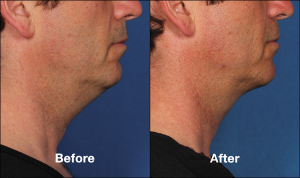 In 2015, the FDA cleared two non-surgical procedures that are specifically designed to reduce submental fat or excess fat tissue below the chin. These procedures, which include Kybella injections and CoolMini treatment, offer a non-surgical
med spa
treatment alternative to liposuction surgery.
Kybella
or ATX-101 involves the administering of multiple injections to reduce excess submental fat, or what is commonly known as double chin. Another non-surgical double chin reduction treatment is CoolMini, which is an innovative device from the makers of CoolSculpting. CoolMini works on the same cooling principle to reduce stubborn fat cells. Rejuvenate
Medical Spa
, led by
Dr. Bijan Farah
, provides Kybella and CoolMini treatments to patients in Encino, Sherman Oaks, San Fernando, Calabasas, Woodland Hills, Tarzana, CA, and surrounding communities.
Kybella Injectable Treatment
Kybella
has become the first and only injectable procedure specifically approved by the FDA for the reduction of submental fat. Extensive studies and clinical trials have demonstrated the safety and efficacy of Kybella. The injectable
med spa
treatment can be tailored to meet the unique aesthetic needs of a patient who desires a slimmer chin profile without surgery. Patient satisfaction rates are very high because of the targeted outcomes achieved with Kybella in a completely non-surgical manner. Rejuvenate
Medical Spa
receives patients from Encino, Sherman Oaks, San Fernando, Calabasas, Woodland Hills, Tarzana, CA, and nearby areas for this procedure.
How does Kybella Work?
Kybella injectable procedure is based on deoxycholic acid, which is a biological substance in the body to support the absorption of excess fat. When this substance is introduced directly into the submental tissue below the chin through injections, it initiates the destruction of unwanted fat cells. These cells eventually get re-absorbed in the body, revealing a slimmer chin profile. Each treatment session of about 15 to 20 minutes will be spaced one month apart, and up to six sessions may be needed.
CoolMini Treatment
The
CoolMini
applicator is designed to reach small or difficult-to-access areas of the body such as the submental area below the chin. The innovative cooling process of CoolMini will freeze away the targeted fat cells, causing their eventual disintegration and removal from the body. CoolMini will clear smaller amounts of fat from below the chin area quickly and efficiently. Most patients may require only one or two treatment sessions with CoolMini to reduce double chin. A single session may last for about one hour. CoolMini treatment program is generally designed to reduce about 20 percent fat in the under-chin area.
Completely Non-invasive
While Kybella involves multiple injections in every treatment session, the CoolMini treatment is completely non-invasive and does not involve any needles. The procedure involves very little or no discomfort for most patients. CoolMini does not involve any administering of medications. It simply cools the targeted area below the chin to freeze off the fat cells. Even in case of Kybella, most patients will experience minimal discomfort as long as the treatment is administered by an expert provider. Patients should carefully evaluate the pros and cons of both procedures. They may discuss the more suitable treatment option in their particular case with the actual treatment provider.
See all Medical Spa Non-Surgical Procedures Dr. Bijan Farah performs on patients in Encino, Sherman Oaks, San Fernando, Calabasas, Tazana, Woodland Hills, CA, and surrounding communities. Schedule a consultation now.