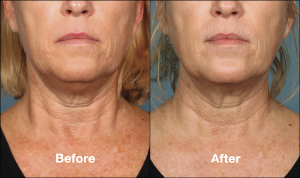 Excess fat deposits in the area below the chin are a common aesthetic problem, which can give the appearance of a double chin. For many people, this submental fat can be difficult to reduce with diet, exercise, or fat reduction
med spa
treatments.
Kybella injections
from Kythera are an FDA approved injectable treatment specifically designed to reduce submental fat. Rejuvenate
Medical Spa
, led by
Dr. Bijan Farah
, provides Kybella injections to patients in Encino, Sherman Oaks, San Fernando, Calabasas, Woodland Hills, Tarzana, CA, and surrounding communities.
Approval by the FDA
Kybella
or ATX-101 holds the distinction of being the first and only non-surgical procedure to be approved by the FDA for the reduction of double chin. The President and CEO of Kythera, Keith Leonard, says that Kybella is a proven non-surgical technique that can be customized to meet the specific aesthetic needs of a patient for an improved chin profile. Individuals who are bothered by the appearance of a double chin, but do not wish to undergo a surgery, may choose Kybella
med spa
procedure. Patient satisfaction rates with Kybella are typically higher, according to Leonard, because of the non-surgical approach and very effective results with this treatment. Leonard explains the benefits of Kybella, which he calls a breakthrough procedure. He says: "For the first time, people have access to an FDA-approved, non-surgical treatment for submental fullness, a condition that can negatively impact the overall appearance of the face and can result in a person feeling older and heavier. With Kybella, physicians can offer a clinically-proven treatment that is customized to the patient and their treatment goals for an improved chin profile." Dr. Bijan Farah is one of the early adopters of cutting edge technologies that are helping to transform aesthetic appearance of men and women without surgery. Through his practice, Rejuvenate
Medical Spa
, Dr. Farah provides innovative cosmetic procedures to patients in Encino, Sherman Oaks, San Fernando, Calabasas, Woodland Hills, Tarzana, CA, and nearby areas.
Proven Results
Kybella's safety and effectiveness was tested extensively under an international clinical development program that covered over 20 clinical studies and 2,600 patients worldwide. More than 68 percent patients confirmed a positive response with this treatment in the pivotal Phase III studies. Patients reported reduction in the amount of fat in the submental region. Many patients also confirmed that they achieved emotional benefits due to the reduction of excess fat below the chin.
Procedure
Kybella injections are administered directly into the targeted fatty tissue underneath the chin. Multiple injections are given in a single treatment session. A single session can last for about 20 minutes. Most patients may require two to four treatments to achieve desirable results. Up to six treatments of Kybella can be administered, depending on the patient's needs. The President of the American Society for Aesthetic Plastic Surgery (ASAPS), Dr. Michael C. Edwards, strongly supports Kybella treatment. Dr. Edwards calls it a revolutionary procedure with excellent potential for the aesthetics industry. At the same time, he cautions patients choose an experienced treatment provider to receive an advanced injectable procedure such as Kybella.
See all Medical Spa Non-Surgical Procedures Dr. Bijan Farah performs on patients in Encino, Sherman Oaks, San Fernando, Calabasas, Tazana, Woodland Hills, CA, and surrounding communities. Schedule a consultation now.