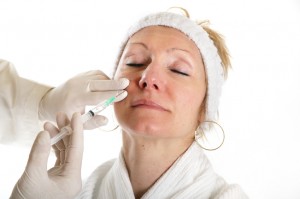 Rejuvenate
Medical Spa
, led by Dr. Bijan Farah, is a premier facility for non-invasive and minimally invasive corrective, cosmetic and
anti-aging
treatments for the skin. Patients in Los Angeles areas such as Encino, and Sherman Oaks may receive state of the art skin and laser treatments at the
med spa
. Treatments for varicose veins and spider veins are also provided at the facility.
What is Dermal Filler?
Dermal fillers are a non-surgical solution to reduce the signs of aging from the face. Without resorting to any highly invasive techniques, dermal fillers can restore a youthful facial appearance, augment the lips, define contours and reduce facial wrinkles and creases. The treatment is usually recommended for people are keen to reduce their signs of aging without undergoing surgery. The filler substance is injected directly into the targeted area of the face for almost immediate results. The downtime involved is negligible or nil, and the risk of side effects that are generally associated with a surgery is eliminated. However, the results with dermal fillers are not permanent. The patient can repeat the treatment as per the guidance of the skin specialist in order to prolong and maintain results.
How does it work?
Dermal filler stimulates the natural skin collagen that may be depleted in the body due to aging, sun exposure, and other factors. The body contains hyaluronic acid, which is found in high concentrations in soft connective tissue and cartilage, and in the fluid around the eyes. With the loss of this natural substance, the skin begins to lose its firmness and elasticity, resulting in sagging skin and facial lines and wrinkles. A filler can replace this substance and stimulate collagen to rejuvenate the affected area. Hyaluronic acid used in fillers is not derived from animal sources. The advantage with fillers that use this substance is that no prior allergy tests may be required. Juvederm, Restylane, and Perlane are some of the popular dermal fillers that are based on hyaluronic acid. Radiesse is another useful dermal filler that is based on calcium hydroxylapatite. It is a heavy facial filler to reduce very conspicuous signs of aging. Deep creases such as nasolabial folds, frown lines and marionette lines can be filled with this natural substance. Radiesse can also be used to enhance facial contours and fullness of cheeks.
Juvederm
Juvederm is one of the most popular, FDA-approved dermal filers that is delivered directly into the targeted areas of the face. It is available in the form of an injectable gel to treat skin folds and wrinkles, including the lines running on the sides of the mouth and nose. The advantage with Juvederm is that a single treatment can last up to a whole year. Customized treatment can be provided for a patient to produce a natural looking outcome. Juvederm application involves the use of a fine needle through which the filler is eased underneath the skin to fill the soft tissue in the dermis. The filler gel adds volume instantly to the targeted area, causing the appearance of wrinkles to reduce. The filler is based on non-animal hyaluronic acid, which makes it safer even for people who are sensitive to animal-based substances.
Restylane and Perlane
Restylane and Perlane are two of the oldest and highly reliable dermal fillers available today. The fillers should be administered by an experienced and qualified skin specialist only. People who have noticeable facial wrinkles or are bothered by a loss of volume on their facial features may opt for Restylane or Perlane treatment. The procedure is brief, painless, and involves little to no downtime. Results can be visible almost immediately. The treatment is ideal for people having moderate to severe creases, folds or wrinkles, and those who have lost facial volume and fullness.
Radiesse
Radiesse is an advanced dermal filler to treat wrinkles and facial lines. Some clinical studies have shown that the effects of Radiesse treatment may last longer than other similar fillers. A single treatment may continue to provide benefits for up to a year or even longer. The treatment is effective for nasolabial folds, laugh lines, and other wrinkles around the mouth. Cheek bones can appear more defined when it is used in the cheek area.
Dermal Filler Treatment with Dr. Farah
Dr. Farah is a board certified doctor with more than 35 years of experience. His Master Injectors with over 10 years of experience provide
anti-aging
filler treatments at this state of the art
med spa
facility to patients in Los Angeles, CA, particularly those from Encino, Sherman Oaks, and nearby communities. Rejuvenate
Medical Spa
provides some of the latest non-invasive and minimally treatments for the skin, including laser treatments.