Radiesse Dermal Filler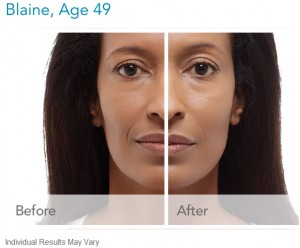 Aging, genetics, and other factors can cause depletion of the facial skin volume, causing the skin to become loose and develop wrinkles and creases. Radiesse is an FDA approved
med spa
dermal filler injection designed to reduce facial signs of aging, and restore a tighter, smoother and more youthful looking face. Radiesse non-animal based filler gel almost instantly volumizes the sagging or thinning areas of the face, and works over a few months to stimulate new collagen production for more sustainable and natural looking facial rejuvenation from within. The injection treatment can be performed in-office by a qualified provider, and involves minimal discomfort or downtime. Rejuvenate
medical spa
, led by the judicious and stellar Dr. Bijan Farah, provides Radiesse dermal filler treatment to patients who want to mitigate facial skin laxity and create a younger looking face in a non-surgical way. The procedure is ideal for working people and busy mothers who want to avoid procedures that involve risks and extended downtime. Dr. Farah provides Radiesse to patients in Encino, Sherman Oaks, San Fernando, Calabasas, Woodland Hills, Tarzana, Los Angeles, CA, and surrounding locations.
Calcium Hydroxylapatite (CaHA)
Synthetic calcium hydroxylapatite (CaHA) is a proven and effective chemical compound, which has been used by medical professionals for over two decades. CaHA is the active ingredient in Radiesse gel. It is completely biocompatible and can be administered without subjecting the patient to any prior allergy tests.
CaHA microspheres are suspended in a gel base for cohesive, sub-dermal treatment. Patients who are unhappy about the appearance of moderate to severe facial creases and wrinkles can achieve marked improvement with Radiesse facial filler. Radiesse is also a non-surgical med spa treatment of choice for patients with depleted facial fat due to disease or other reasons.
Areas of Treatment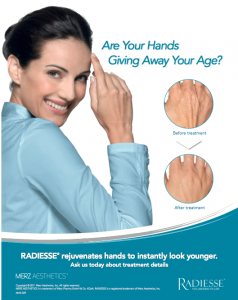 One of the advantages with Radiesse is that its higher longevity of results. Unlike most other non-animal filler injections which produce results lasting for about six months to a year, Radiesse can create results that sustain for 12 to 18 months. The risk of side effects with Radiesse is minimal, which is another key benefit for patients looking for a simple and effective facial anti-aging solution.
Specific Benefits
Radiesse gel can most effectively improve deep furrows, laugh lines and vertical glabellar lines. Patients with mild facial asymmetry can also benefit from the subtle facial volumizing created with Radiesse. Minor lesions and saucerized acne scars can be treated with Radiesse. To achieve the desired and predictable outcomes with a powerful filler treatment such as Radiesse, patients should select a qualified provider. Although its rate of complications is low, Radiesse requires skilled administering of the injections to achieve safe and predictable results. Rejuvenate
medical spa
receives patients from Encino, Sherman Oaks, San Fernando, Calabasas, Woodland Hills, Tarzana, Los Angeles, CA, and other cities and suburbs in this part of The Golden State for Radiesse.
See all Medical Spa Non-Surgical Procedures Dr. Bijan Farah performs on patients in Los Angeles, Encino, Sherman Oaks, San Fernando, Calabasas, Tazana, Woodland Hills, CA, and surrounding communities. Schedule a consultation now.