Nail infection fungus treatment
What can you expect from the procedure?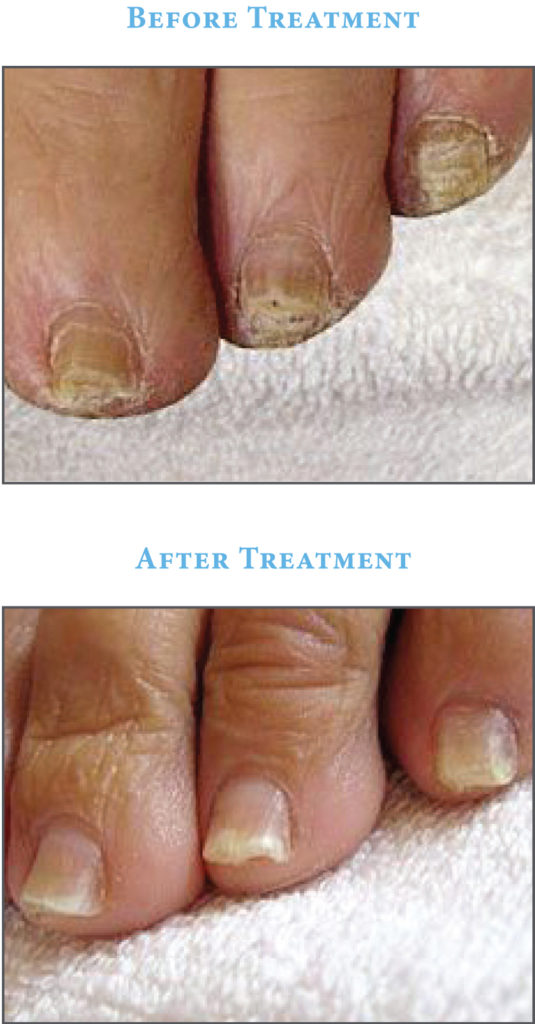 One day before the procedure it is important to remove all nail polish and decorations. The procedure itself involves passing the laser beam over the infected nails and surrounding skin tissue. A single procedure session usually takes approximately 35-45 minutes for 5-10 nails. The required number of procedures will vary depending on the severity of the infection. Procedure times may vary, so please consult your physician for more information. Most patients describe the procedure as being comfortable with the nail feeling warm during the procedure. Following the procedure your nail may feel warm for a few minutes. There is a possibility of transient slight discoloration of the nail after procedure. Most patients can resume normal activities immediately. The majority of patients show improvement after a single procedure session. Successful procedure will result in a growth of a new, healthy nail. Due to slow growth of the nail, it may take up to 1 year to see an entirely clear nail. After the procedure you will need to continue with home care techniques in order to reduce the chance of recurrence of the infection as advised by your physician. There is a chance for reinfection due to the presence of causative agents everywhere in our environment.
What do the clinical studies say?
Several studies have been published on the subject. 1-5 A majority of patients receiving laser procedure for onychomycosis showed improvement in the percent of nail clear of infection. A clinical study 2 showed improvement in the nail clear of infection in 95% of patients after a 3 month period. The amount of improvement you may experience in your particular case is dependent on your individual circumstances and should be discussed with your physician.
Our Products
Onychomycosis, or nail infection, is a persistent fungal infection of the nail bed, matrix or plate. It is the most common nail disorder in adults, accounting for one third of all fungal skin infections and up to 50 percent of all nail diseases. Toenails are affected more often than fingernails. The infection can cause nails to become yellow or discolored. Advanced infection can cause the nail to become thick, brittle and separate from the nail bed. It can also cause discomfort when wearing shoes or walking. This post provides information about the causes of onychomycosis and available procedure options. The benefits, disadvantages and risk of each procedure option is discussed. Your medical condition and procedure should be discussed with your doctor.
What is ClearSteps?
ClearSteps is a revolutionary method for providing temporary increase in clear nail in patients with onychomycosis in a patient-friendly and quick way with Nd:YAG laser light, which passes evenly throughout the depth of effected nail and skin tissue. The clinical testing reviewed by FDA has not demonstrated this light based therapy as a permanent treatment of the fungus that causes Onychomycosis. Based on clinical testing, you may see a temporary improvement in the appearance of your nails. Please be aware that this change of appearance of your nails may not be permanent and may require additional treatment or other therapies.
What is the cause of onychomycosis (nail infection)?
The causative agents of onychomycosis include dermatophytes (fungi that invade only dead tissues of the skin, nails, or hair), nondermatophyte moulds, and rarely, yeasts of the Candida species. The dermatophytes Trichophyton rubrum and Trichophyton mentagrophytes are the most common causative pathogens of onychomycosis. The overall prevalence of onychomycosis ranges from 2 to 14 percent.
Where can you get onychomycosis?
Onychomycosis is caused by contact with infective agents (e.g. dermatophytes). Since dermatophytes are present everywhere in our environment, everyone is at risk for infection. Common sources for infection include public showers, swimming pools, nail spas and gyms. Nail trauma and tight fitting shoes can also lead to infection. Factors that increase the risk of nail infection are increasing age, poor health and genetic susceptibility.
What are the symptoms of onychomycosis?
One or more of the following symptoms may indicate that you suffer from onychomycosis: • Distorted or thickened nails • Discolored nails • Bushings • Yellow streaks under the nail • White streaks or spots on the nail surface • Brittle, crumbly or ragged nail • Nails separated from the underlying skin • Buildup of debris (nail fragments, skin) under the nail
What are the procedure options for onychomycosis?
Current procedure options for the procedure include  procedure. Topical drugs are less effective in treating onychomycosis and restoring clear nails. The drugs are applied directly to the nails on a daily basis for a period of up to 12 months. In some cases, the procedure is ineffective because the drug cannot pass through the nail to reach the infection. There are no significant adverse effects. Systemic (oral) drugs can be very effective in treating onychomycosis and restoring clear nails and are usually taken for a period of 6 to 12 weeks. Adverse effects associated with systemic antifungal therapy may include headache, skin rash, upset stomach and diarrhea. Serious adverse effects include heart failure and liver damage.  Weekly blood tests may be required to monitor the liver function. These drugs are not used for patients who have liver disease or are in poor health. Laser procedure is shown to temporarily restore clear nails. Most patients experience at least some degree of improvement. During the procedure most patients report a warm feeling in the laser-irradiated area and are able to resume normal activities immediately. No significant adverse effects were reported in the studies. 1-5 No single procedure is effective in all patients and every procedure carries with it its own risks and benefits. Be sure to consult your physician regarding all your procedure options.
Source:
1. Gupta et al. Onychomycosis therapy: past, present, future. J Drugs Dermatol. 2010 Sep; 9 (9):1109-13
2. Kozarev J. Clinical Study: Laser Onychomycosis Treatment; 2011
3. Kozarev J, Vizintin Z. Novel Laser Therapy in Treatment of Onychomycosis. LAHA – Journal of the Laser and Health Academy. 2010; 2010 (1)
4. Hochman L. Laser treatment of onychomycosis  using a novel 0.65-millisecond pulsed Nd: YAG 1064-nm laser. Journal of Cosmetic and Laser Therapy; 2011, 13:2-5
5. Harris et al. Laser treatment for toenail fungus. Proc. of SPIE Vol. 7161 71610M-1. 2009
Photos courtesy of Jasmina Kozarev, MD, lasers have been cleared by the FDA to be both a safe and effective solution for the procedure of onychomycosis.
See all Medical Spa Non-Surgical Procedures Dr. Bijan Farah performs on patients in Encino, Sherman Oaks, San Fernando, Calabasas, CA, and surrounding communities. Schedule a consultation now.