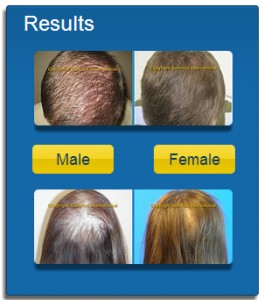 Rejuvenate
Medical Spa
, led by
Dr. Bijan Farah
, provides some of the latest, proven and effective
anti-aging
treatments. Patients suffering from hair loss can also receive innovative laser based
hair restoration solutions
at the
med spa
. Dr. Farah receives patients from Encino, Sherman Oaks, San Fernando, Calabasas, CA, and surrounding areas for a variety of aesthetic concerns that can be treated with non-surgical solutions.
What is Laser Hair Restoration LLLT?
LLLT is
Low Level Laser Therapy
, which is a proven, non-surgical, painless treatment for men and women who suffering from hair loss. The treatment is highly safe, does not involve any pills or special medications, and there is no mandatory recovery period associated with it. The low level lasers used in the LLLT technique do not emit any heat, sound or vibration, and as a result they involve no risk of tissue burning, tissue injury or other side effects.
Bio-Stimulation Laser
Rejuvenate
Medical Spa
is equipped with a state of the art technology called the
Sunetics Clinical Bio-Stimulation Lase
r. This in-office treatment system involves low level laser energy technique. Patients at Dr. Farah's
med spa
can receive safe and convenient hair restoration treatment, while they sit and relax beneath the device. Patients in and around Encino, Sherman Oaks, San Fernando, and Calabasas, CA, who are looking for painless and non-invasive solutions to address their hair loss or hair thinning concerns, may consider Sunetics Laser treatment at Rejuvenate. Some of the recent medical
anti-aging
studies have shown that LLLT treatment with Sunetics Laser achieves more effective results over a shorter period of time compared to other similar treatment systems.
Cleared by the FDA
Sunetics Laser technology, designed for treatment of male and female pattern hair loss has been cleared by the FDA in June, 2013. Clinical trials conducted to receive FDA clearance showed that 93 percent of participants treated with low level laser therapy experienced re-growth of hair at an average of 22 hairs per square centimeter. The treatment has demonstrated effective outcomes in stabilizing hair loss over the entire scalp. Hair re-growth with this treatment is achieved in both the frontal as well as the temporal areas of the scalp, where standard drugs such as Propecia and Rogaine may be less effective.
Key Benefits
LLLT provides the following clinically proven benefits for most patients:
Speeds up the growth of hair and produces hair re-growth in 93 percent of the patients.
Improves blood flow from the dermis to the root of the hair follicle.
Causes stimulation of up to 70 percent of passive hairs back into the active growth cycle.
Halts the hair loss progression.
Improves the strength and elasticity of hair.
Allows for hair follicle augmentation, providing patients with thicker, fuller, softer, and shinier hair.
Leads to repair and improvement in hair shaft quality.
Most effective outcomes with LLLT, as with most other non-surgical hair loss treatments, can be achieved with consistent and continuous treatments to maintain the improvement. Rejuvenate Medical Spa may recommend maintenance treatments of up to once per week, depending on the patient's needs.
Before and After photos provided by http://www.sunetics.com/