Sun Spot Removal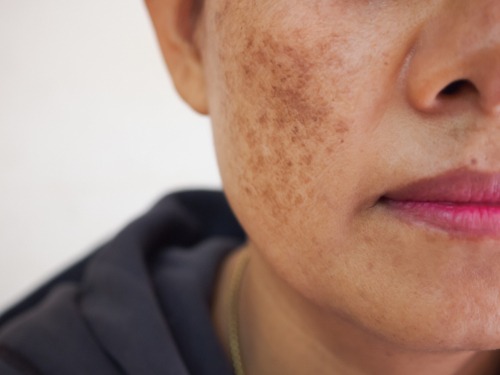 Irregular discoloration of the skin because of sun damage can be reduced by IPL Photofacial. Irregular red and brown discoloration of the skin is caused by chronic sun damage. These broken capillaries or sun spots are in the skin surface. They make the skin look really old. IPL Broadband (BBL) therapy helps in reducing these discolorations. The treatment helps make the skin tone bright and even. This is done by heating up the skin structures which hold color. This in turn helps in destroying or damaging the sun spot or blood vessel in a process called Selective Photothermolysis. Rejuvenate Medical Spa, led by board certified physician Dr. Bijan Farah, provides IPL Photofacial Broadband Light (BBL) skin care treatments to patients in Encino, Sherman Oaks, San Fernando, Calabasas, Woodland Hills, Tarzana, Los Angeles, CA, and surrounding communities.
Sun Spots Treatment Using Targeted Wavelengths
Range of wavelengths is used in IPL Photofacial for targeting red and brown discoloration. Sun exposure causes this type of discoloration over the years. Filters can be used for cutting off light wavelengths which can be harmful in darker skinned patients. These filters help in decreasing the risk of normal pigment damage. IPL is recommended by professionals for fairer skinned patients that have age spots, brown discoloration, and freckles, especially in the chest and face. Sun spots can be treated by Intense Pulse Light. It can also be used for treating rosacea, small veins, and other types of skin discoloration. The machine makes use of light for targeting blood and pigment within the skin while sparing other skin structures. You won't need more than 3 to 4 treatments making this a highly popular option. The therapy can also be used for reducing unwanted hair. IPL Photofacial is a profound method for reducing and effectively treating age spots, brown spots, sun damage, rosacea, wrinkles, and freckles. You may notice significant improvements after just one session. However, you would need at least 3 to 4 sessions of 45 minutes each for significant results.
Recovery and Healing: Time Taken by IPL
IPL treatment has a great advantage that it causes minimal damage to the most superficial skin layer. This means that recovery and healing is quicker as compared to other forms of acne and skin treatments. Patients would feel mild sunburn on the treatment area after each session. This sensation may last for anywhere from 4 to 6 hours. Side effects can include reddening and slight bruising. Patients may also experience mild peeling after a few weeks. There are no serious side effects to this therapy. Some improvements may be noticed by patients after the first treatment. However, full results may take a few weeks to manifest. Following tips can help speed up recovery:
Moisturize the skin using lotion
Use a cleanser to wash the face
Don't apply makeup if the skin is sensitive
Always use a sunscreen of SPF 30 and more
Sun damage after getting this therapy can be harmful to the skin. Rejuvenate Medical Spa receives patients from Encino, Sherman Oaks, San Fernando, Calabasas, Woodland Hills, Tarzana, Los Angeles, CA, and nearby areas for Broadband Light (BBL) IPL Photofacial skin rejuvenation procedures.
Contact Rejuvenate Medical Spa in the Los Angeles, CA Area 
See all Medical Spa Non-Surgical Procedures Dr. Bijan Farah performs on patients in Los Angeles, Encino, Sherman Oaks, San Fernando, Calabasas, Tazana, Woodland Hills, CA, and surrounding communities. Schedule a consultation now.