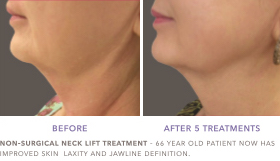 Microneedling with radiofrequency (RF) is one of the innovative new technologies for cosmetic treatments through the combination of two methods, which were earlier used individually for skin rejuvenation.
This combination
med spa
therapy, called RF Microneedling, is effective for acne and acne scar improvement as well as wrinkles and fine lines both on and off the face. It is effective on all types of skin and is associated with minimal downtime and few side effects.
Innovative
RF technology is meant for minimally invasive skin rejuvenation. For many years, it has been in use to improve skin laxity, rhytids, and acne scarring. Unlike lasers, this technology uses tissue resistance within multiple skin layers to transform RF energy into thermal energy.
This leads to the constriction of collagen as well as the production of new collagen. The benefit of RF over laser is that it is safe for all types of skin as no light is delivered into the skin to stimulate melanin.
Rejuvenate
Medical Spa
, led by Dr. Bijan Farah, provides RF Microneedling to patients in Encino, Sherman Oaks, San Fernando, Calabasas, Woodland Hills, Tarzana, Los Angeles, CA, and surrounding communities.
How it Works?
As the fine micro needles penetrate the skin, they cause direct trauma by stretching it. This starts a repair process that prompts fibroblasts to produce new collagen which can effectively mitigate the appearance of fine lines and wrinkles.
Furthermore, the micro needles create tiny channels that enable the direct delivery of topical meds applied to the skin. This procedure is safe for all types of skin with a negligible risk of post-inflammatory pigmentation.
A combination of RF and microneedling enhance the outcomes that could be attained with either treatment by itself. This combination technology causes dermal collagen coagulation resulting in instant skin contraction.
In addition, it promotes the natural healing reaction of the skin which causes the replacement of damaged connective tissue with new, radiant skin.
Advantages
Radio frequency based
med spa
anti-aging procedures have been proven to enhance collagen production, which mitigates wrinkling and promotes skin tightening.
In addition to this, RF also increases the density of elastin in the skin which can further tighten the skin further. There is visible skin firming, stretch marks reduction, and textural improvements following repeat treatments.
In comparison to ablative laser resurfacing, this technology allows the treatment provider to adjust the energy levels and needle depth. It can also be performed in areas than the face.
Fractionated microneedle RF treatments can improve the appearance of stretch marks, wrinkles, and fine lines on the face as well as other areas.
The technique allows precise energy delivery through controlled energy intensity, delivery depth, and pulse duration. On top of this, insulated needles spare the epidermis allowing for its use on all types of skin. It also has a minimal risk of post-inflammatory hyperpigmentation.
In comparison to other energy-based skin rejuvenation treatments, this
med spa
procedure presents a significant reduction in downtime and side effects.
Number of Treatment Sessions
The treatment provider may recommend the patient to undergo at least three treatment sessions to experience dramatic improvements in the skin texture and smoothness. However, this can differ depending on the cosmetic goals of the patient.
RF Microneedling can be an important step in a comprehensive wrinkle reduction treatment regimen. Wrinkles may require other treatments before this procedure to attain the best outcomes for the skin.
At the time of the skin care consultation, a qualified RF Microneedling provider can assist patients and create the most appropriate treatment plan for them.
Rejuvenate
Medical Spa
receives patients from Encino, Sherman Oaks, San Fernando, Calabasas, Woodland Hills, Tarzana, Los Angeles, CA, and nearby areas for RF Microneedling.
See all Medical Spa Non-Surgical Procedures Dr. Bijan Farah performs on patients in Los Angeles, Encino, Sherman Oaks, San Fernando, Calabasas, Tazana, Woodland Hills, CA, and surrounding communities. Schedule a consultation now.