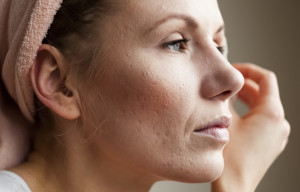 Certain types of acne scars can be improved with a safe and proven dermal filler injectable procedure. The dermal filler gel will instantly plump up and volumize the treated site, causing the depression or scar to fade away.
Rejuvenate
Medical Spa
, led by Dr. Bijan Farah, provides dermal fillers for acne scars to patients in Encino, Sherman Oaks, San Fernando, Calabasas, Woodland Hills, Tarzana, Los Angeles, CA, and surrounding locations.
Bellafill Dermal Filler for Acne Scar Reduction
The FDA approved Bellafill dermal filler in 2015 for the correction of mild to severe atrophic facial acne scars. Until now, Bellafill remains the first and only injectable filler approved by the FDA specifically for acne scar reduction. The treatment is suitable for patients in the age group of 21 and above. Results with Bellafill injections can last for up to 12 months. 
The med spa treatment provider will inject the filler gel directly into the acne scar sites using a tiny needle. The skin's appearance will improve almost instantly with this treatment. The active ingredient in Bellafill gel is PMMA (polymethyl methacrylate) with bovine collagen, which works well for adding volume to the skin in the targeted areas. 
Other Dermal Fillers for Acne Scar Removal
Although Bellafill is the only FDA approved dermal filler for the long-term improvement of facial acne scars, other injectable fillers such as Juvederm, Radiesse, Belotereo, Retylane, or Sculptra can also be applied with very effective results. All of these facial fillers have also been approved by the FDA for multiple cosmetic purposes. 
In most cases, the patient can repeat the injectable treatment in the future to achieve sustainable aesthetic results. The dosage required for acne scar filling will vary according to the type and extent of acne scars and the overall facial anatomy of the patient. When a patient chooses a hyaluronic acid based filler, they will not require an allergy test as the filler gel is completely biocompatible. 
Types of Acne Scars Treated with Fillers
Dermal fillers are an excellent solution for correcting certain types of acne scars. They are especially effective for rolling scars and certain less defined boxcar scars. Filler injection treatment is safe and well tolerated, with aesthetically appealing results to fill the facial skin depression associated with scars. Volume loss caused by acne scarring can be temporarily reversed with a dermal filler gel treatment.
The dermal filler injection will produce desirable results immediately and the results will continue to improve over the next several weeks.  This modification and improvement takes place due to the breaking up of some scarred down bands with the injectable filler. The filler gel treatment will also trigger the production of fresh collagen due to the stretching of the fibroblasts.
Patient Comfort
Most of the dermal fillers used for acne scar treatment may already include a local anesthetic called lidocaine. Therefore, when the injection is applied, it will not cause any pain. The provider may also apply a topical numbing cream to alleviate any discomfort. A skilled injection provider will be able to minimize the pain and discomfort through highly precise needle placement.
Rejuvenate
Med Spa
receives patients from Encino, Sherman Oaks, San Fernando, Calabasas, Woodland Hills, Tarzana, Los Angeles, CA, and nearby areas for dermal filler treatment.
See all Medical Spa Non-Surgical Procedures Dr. Bijan Farah performs on patients in Los Angeles, Encino, Sherman Oaks, San Fernando, Calabasas, Tazana, Woodland Hills, CA, and surrounding communities. Schedule a consultation now.