NEW Non Invasive Body Contouring & Cellulite Removal Technology
VelaShape III
is the latest innovation from Syneron Candela, a leading global aesthetic device company. This unique
med spa
technology is designed to help patients achieve enhanced body contours, cellulite reduction, circumferential reduction, and improvement in skin tone and texture. Rejuvenate Medical Spa, led by Dr. Bijan Farah, provides cutting edge non-invasive and minimally invasive aesthetic procedures. The
medical spa
has now introduced VelaShape III to be one of the early providers of this advanced treatment. Rejuvenate providers VelaShape III and other procedures to patients in Encino, Sherman Oaks, San Fernando, Calabasas, Woodland Hills, Tarzana, CA, and surrounding locations.
High Patient Satisfaction Rates
VelaShape III is an effective
med spa
solution for body contouring in areas such as the abdomen, thighs, arms, flanks, and buttocks. Stubborn problems such as cellulite can be treated successfully with this technique. Most patients are completely satisfied with the results, particularly because they can achieve them without the involvement of any downtime and with little or no discomfort. Treatment sessions are short, and many patients experience outstanding results just from a single session. For busy moms, working people, and others who are looking for body contouring alternatives to plastic surgery, VelaShape III can produce the best satisfaction rates.
Guided Mode Software
VelaShape III comes with an innovative Guided Mode software program that enables patients to achieve desired results in just one to three treatment sessions. The treatment experience is enhanced with the Guided Mode. This advanced software simplifies the procedure and minimize technique sensitivity. This allows better comfort levels for the patients. The Guided Mode ensures easier, more accurate, patient-centric operation. The following key benefits of VelaShape III distinguish it from most other non-surgical body contouring techniques:
Treatment guidance is standardized, enabling safer outcomes, greater automation and minimal operator dependency
The step by step guided process eliminates the need to navigate and delivers more accurate results
Versatile, award-winning design for complete patient and operator convenience
Superior efficacy
Fewer treatment sessions and shorter session durations
Proven Technology
VelaShape is the only system to combine four technologies to produce a synergistic effect while treating the skin for improved appearance. Its unique mechanism of action ensures comfortable and effective outcomes. The technology has been proven in several clinical trials and more than 3.5 million independent treatments. Rejuvenate
Medical Spa
receives patients from Encino, Sherman Oaks, San Fernando, Calabasas, Woodland Hills, Tarzana, CA, and nearby areas for VelaShape III and other procedures.
Removal of Cellulite
VelaShape III combines four different technologies, including infrared, bi-polar, radio frequency, and mechanical tissue manipulation using pulse vacuum and massage rollers. The IR and RF technologies generate deep heat in the targeted connective tissue including the fibrous septae. This in turn supports fresh production of collagen and localized cellular metabolism leading to improved skin volume and elasticity. The additional manipulation of the tissue done mechanically will cause enhanced blood flow and lymphatic drainage, providing further support to the development of healthier skin structure. The procedure results in tighter and firmer skin and the reduction of unsightly cellulite.
VelaShape Before & After Photos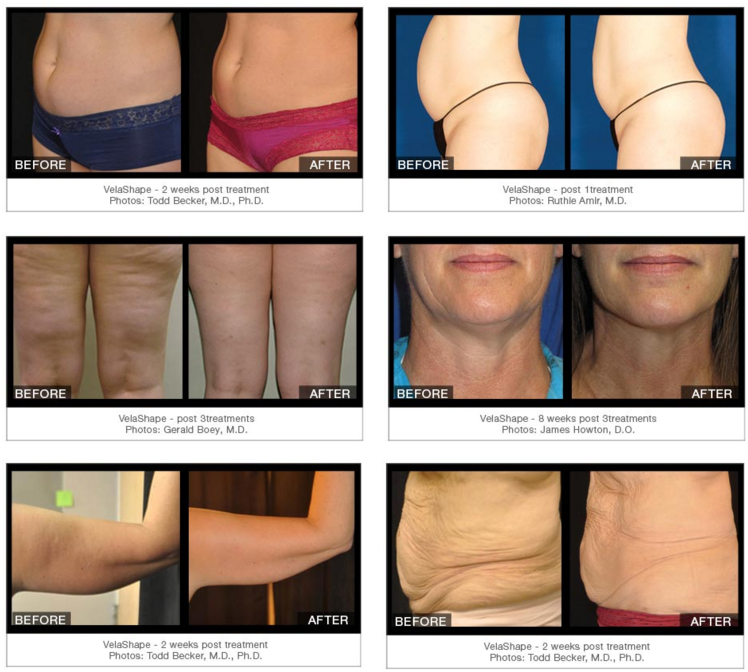 See all Medical Spa Non-Surgical Procedures Dr. Bijan Farah performs on patients in Encino, Sherman Oaks, San Fernando, Calabasas, Tazana, Woodland Hills, CA, and surrounding communities. Schedule a consultation now.