Get Rid of Fat on Your Thighs With Coolsculpting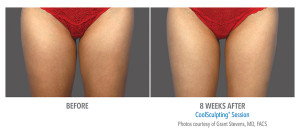 CoolSculpting
is an advanced
med spa
procedure that has received FDA-clearance for cosmetic body contouring. It is designed to provide non-surgical reduction of fat in particular areas of the body. In this process, the fat is frozen away with CoolSculpting's unique process called cryolipolysis. Patients do not receive any cuts or incisions, and the procedure does not require any needles or medications, making CoolSculpting a safe and minimal risk procedure. Among the areas that CoolSculpting can successfully treat are the inner and outer thighs. CoolSculpting can provide these sites with a sleeker lower body appearance. In general, stubborn fat deposits usually develop in the thigh area. These deposits can be challenging to eliminate with diet and exercise alone. For patients seeking fat reduction in the inner and outer thighs, CoolSculpting can help. Rejuvenate
Medical Spa
, led by Dr. Bijan Farah, provides CoolSculpting to patients in Encino, Sherman Oaks, San Fernando, Calabasas, Woodland Hills, Tarzana, Los Angeles, CA, and surrounding locations.
FDA-Cleared for Thigh Fat Reduction
CoolSculpting by Zeltiq received FDA-clearance in 2014 for the elimination of fat in the inner and outer thighs. Once this clearance was obtained, the manufacturer Zeltiq began promoting this procedure as an effective non-surgical solution for the removal of stubborn fatty deposits in the inner and outer thigh. Zeltiq stated that patients could achieve 20 to 25 percent reduction in fat deposits in the thighs within three months with this
med spa
treatment. During the trials by the FDA, almost 86 percent of patients reported a noticeable decrease in their thigh fat within a period of four months following the CoolSculpting treatment. The time taken for one CoolSculpting session is around 45 minutes. At a given time, one inner or outer thigh can receive treatment. The patient may require multiple treatment sessions to accomplish desired outcomes. An increasing number of patients nowadays seek the "thigh gap." CoolSculpting is a popular treatment among people who want the appearance of a gap between their inner thighs. Both treatment providers and patients alike offer positive feedback for CoolSculpting as an effective nonsurgical treatment to address thigh fat. CoolSculpting delicately eliminates fat causing low to no downtime and discomfort unlike aggressive procedures such as liposuction or lasers.
How does it Work?
Fat cells located in the inner thighs, as well as other fat tissue sites, are more susceptible to damage at very low temperatures in comparison to other cells as well as nerves and blood vessels in the vicinity. CoolSculpting targets these cells precisely causing the selective elimination of undesirable fat cells through a process known as apoptosis. These dead fat cells will gradually break down and be absorbed by the body through the natural metabolic process. This enables the patient to enjoy sleeker, more youthful and natural looking inner and outer thighs.
CoolFit Applicator
The treatment provider generally uses a specialized CoolFit applicator to perform customized elimination of fat in the thighs. Some patients may need two applicators on each side according to the distribution of the fat. The treatment provider will usually place the second applicator toward the back of the inner thigh for overall contour enhancement. Rejuvenate
Medical Spa
receives patients from Encino, Sherman Oaks, San Fernando, Calabasas, Woodland Hills, Tarzana, Los Angeles, CA, and nearby areas for CoolSculpting.
See all Medical Spa Non-Surgical Procedures Dr. Bijan Farah performs on patients in Los Angeles, Encino, Sherman Oaks, San Fernando, Calabasas, Tazana, Woodland Hills, CA, and surrounding communities. Schedule a consultation now.