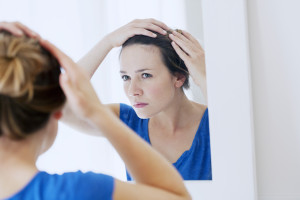 A series of injections, known as Platelet Rich Plasma therapy (PRP), can be used to re-grow hair in balding patients. PRP is not a new technology. However, experts have only recently started investigating its potential role in the re-growth of hair. 
In this
med spa
treatment, the patient's blood is drawn and spun in a centrifuge to segregate the plasma from the red and white cells. 
After augmenting with nutrients such as protein, the platelets and growth factors are collected from the sample. These are injected into the scalp in areas of thinning hair. This is a non-surgical procedure that requires only local anesthesia.  
PRP has been in use in sports medicine for years to treat injuries to the joints, muscles, and Achilles tendon by stimulating stem cells. To address hair loss, the injected platelets encourage newly implanted or inactive hair follicles to enter an active growth phase. This causes the hair to re-grow. 
Rejuvenate
Medical Spa
, led by Dr. Bijan Farah, provides safe and proven cosmetic treatments to patients in Encino, Sherman Oaks, San Fernando, Calabasas, Woodland Hills, Tarzana, Los Angeles, CA, and surrounding locations.
Ideal PRP Candidates
PRP targets androgenetic alopecia, which is the genetic thinning of hair that impacts men as well as women. Experts contend that it may also be effective for females with traction alopecia, or hair thinning that occurs due to excessively tight braids, ponytails, and other styles that pull the hair out.
Researchers indicate that the most suitable candidates are individuals who have recently started to lose hair. PRP
med spa
treatment may not be effective for a person who is completely bald, and it will not fully restore all lost hair.  
Effectiveness of PRP
The outcomes of clinical studies about the efficacy of PRP and the sustainability of results are inconclusive as there is no standardized procedure, and different providers use diverse injection formulas and strategies.
In one study involving 11 participants, it was found that there was "a significant reduction in hair loss" between the initial injection and the fourth. There was also an increase in the average number of hair follicles per square centimeter of scalp. 
Another research study of 20 participants concluded that PRP "has a positive therapeutic effect" on female and male pattern hair loss without any significant side effects. As a hair loss treatment, PRP has already established a reputation among physicians and patients as an effective technique for the re-growth of hair. 
Choose High Concentrate PRP Therapy with Laser 
High Concentrate PRP therapy is a cutting-edge technique for enhancing the power and efficacy of hair regeneration treatments. Upon being used with laser hair restoration, PRP helps stimulate hair follicles for thicker, stronger, and healthier hair. 
For a number of years, follicles that were not producing hair any longer were thought to be fully dead. However, recent studies indicate that in many cases, these unproductive follicles are merely injured, formant, compromised, or otherwise non-productive. In fact, they may still be capable of hair re-growth for five to eight years after the initial signs of seeming "dead."
The robust growth factors found with the patient's own platelet-rich plasma (PRP) stimulate stem cells within these unproductive hair follicles. It also encourages the localized growth of cells and the development of new blood vessels to nourish the regenerated hair follicles. 
Rejuvenate
Medical Spa
receives patients from Encino, Sherman Oaks, San Fernando, Calabasas, Woodland Hills, Tarzana, Los Angeles, CA, and nearby areas for innovative and advanced cosmetic procedures. 
See all Medical Spa Non-Surgical Procedures Dr. Bijan Farah performs on patients in Los Angeles, Encino, Sherman Oaks, San Fernando, Calabasas, Tazana, Woodland Hills, CA, and surrounding communities. Schedule a consultation now.