Rejuvenate Medical Introduces miraDry!
Dramatically Reduce Underarm Sweat and Odor
If you struggle with underarm sweat or odor, there is now a viable solution. Rejuvenate Medical Spa is now offering a permanent solution to this uncomfortable and embarrassing condition. Dr. Bijan Farah and his team at Rejuvenate will help you get rid of underarm sweat with a safe and simple treatment called miraDry.
Permanent Relief from Underarm Sweat

miraDry is the first and only FDA-cleared treatment to permanently reduce or eliminate underarm sweat or axillary hyperhidrosis (excessive sweating in your underarms). You can achieve lasting relief from this condition in a single treatment session that could take as little as one hour at our med spa. The miraDry treatment system makes use of thermal energy to target the odor and sweat glands in the underarms and safely eliminate them. Once the heat energy eliminates these glands, they will be gone for good. Sweat glands do not grow back, so you will obtain permanent relief from odor and sweat stains in the underarms.
Safe and Proven Results
Results with miraDry treatment will be safe and immediate. Clinical research has shown that when you receive this treatment from a skilled provider, you can expect to achieve an average reduction of 82% in sweat and 89% in odor. MiraDry is completely safe because it will only remove the sweat glands from your underarms. Your body has millions of sweat glands, out of which only about two percent are present in your underarms. So, your body's natural cooling ability remains unaffected when this small percentage of sweat glands is eliminated from your underarms.
miraDry Procedure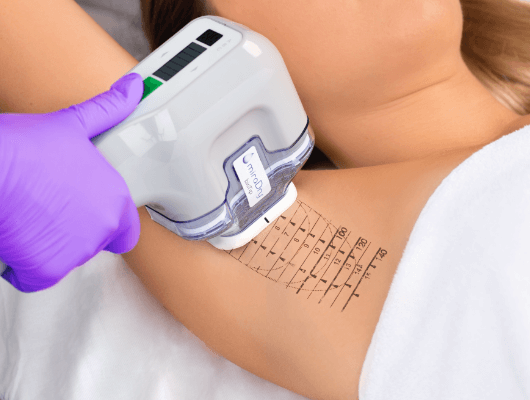 One of the trained treatment providers at Rejuvenate (or Dr. Farah himself) will perform the miraDry procedure in a comfortable, one-hour session. The provider will use a handheld, non-invasive device to deliver thermal energy to target the sweat glands in the skin beneath the underarms. The thermolysis process will break down the sweat glands, while the top skin layers will be cooled to protect them from any heat-related damage. Many patients achieve their desired results in a single treatment session, but Dr. Farah will determine if you may require two sessions spaced a few weeks apart for an optimal outcome. In exceptional circumstances, Dr. Farah may recommend a third treatment session. To ensure your complete comfort throughout the treatment, your provider will administer a local anesthetic prior to the session. Following the treatment, you may be able to return to your workplace or resume your daily activities immediately. However, Dr. Farah will advise you to avoid vigorous exercises for a few days until the temporary swelling and bruising in the underarms subsides.
Are You a Candidate for miraDry Treatment?
If you are bothered by excess underarm sweat and want a permanent, non-invasive solution to it, you could be a candidate for MiraDry treatment. However, if you use an electronic pacemaker or another implanted electronic device, Dr. Farah may not advise you to choose miraDry. Researchers at the University of British Columbia have determined that the average patient satisfaction rating for miraDry is as high as 90%. See all 
Medical Spa Non-Surgical Procedures
Dr. Bijan Farah
 treats patients in Los Angeles, Encino, Sherman Oaks, San Fernando, Calabasas, Tazana, Woodland Hills, CA, and surrounding communities. 
Schedule a consultation now
.